Rooftop-Solar Disruptor Picks Green-Utility Veteran as New CEO
(Bloomberg) -- Sunrun Inc. was long a rooftop-panel upstart that aimed to disrupt a system dominated by utilities. Now, it's a residential giant that just hired a utility veteran as its next chief executive officer, albeit a green-minded executive who has long shared a similar vision for the energy industry.
The hiring of Mary Powell, a Sunrun director and former head of Green Mountain Power, underscores the company's evolution from high-growth insurgent to a new-age utility of sorts. It's not just a panel-system seller and installer anymore, but a company that offers storage and energy services -- and now even works with electric-system incumbents to provide some energy from solar-powered battery systems.
"That's probably the kind of background you need," said Joe Osha, an analyst at Guggenheim Partners. "It's no longer just a business of showing up and saying, 'hey, do you want to get solar?'"
Powell was chief executive officer and president of Vermont-based Green Mountain from 2008 to 2019, and joined Sunrun's board in 2018. She will replace Lynn Jurich, who is becoming executive co-chair, effective Aug. 31. At Green Mountain, Powell pushed to shake the utility from the mold of a traditional electric company by embracing microgrids and renewables.
"It is helpful that I understand deeply the opportunity from a utility perspective," Powell said in an interview Friday.
But at the same time, she wasn't viewed as a mainstream utility leader. "We launched goals to getting 100% carbon-free power," she said.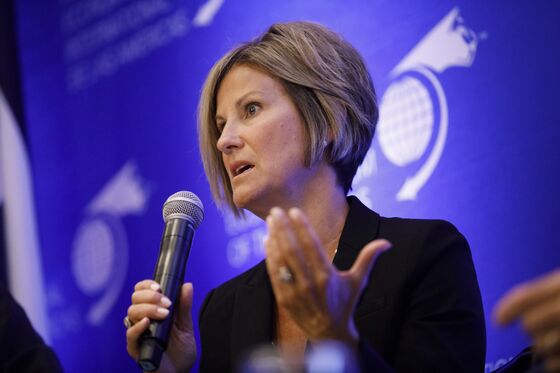 Sunrun's leadership shift comes amid a surge in homeowner interest in solar and batteries, thanks in part to falling costs and a rise in climate calamities that have battered electricity systems across the U.S. The country's residential-solar sector achieved record installations in 2020 despite an historically weak stretch early in the pandemic -- and projections earlier this year from Wood Mackenzie Ltd. anticipated new highs in each of the next three years.
Jurich is one of the longest tenured solar executives and helped Sunrun overtake Tesla Inc. as the largest U.S. residential-solar company. As executive co-chair, Jurich will focus on home-electrification innovation and strategic development.
Sunrun fell as much as 11% on Friday. On Thursday, it reported a second-quarter net loss of $41.2 million.