Orange Juice Prices Soar With Frost Threatening Florida Crop
Sugar Slides for Fifth Day as Better Crops Offset Higher Oil
(Bloomberg) -- Orange juice has been getting more expensive, and now forecasters say frost could hurt groves in Florida, the nation's biggest supplier.
Most of the state's growing areas are under a frost watch, and temperatures could descend this weekend below 30 degrees Fahrenheit by Sunday morning, according to Drew Lerner, the president of World Weather Inc. Cold winds could hurt developing fruit and further reduce yields, tightening supplies at a time of surging costs. 
Futures are trading at the highest since 2018 in New York and have climbed 37% in the past year driven by shrinking supplies.
The Sunshine state was already on track to harvest the smallest crop since the 1940s due to decades-long damage from citrus greening disease, which shrivels fruit and kills trees. This has raised maintenance costs for farmers and discouraged investments. Meanwhile urban development and hurricane damage are also contributing to the decline.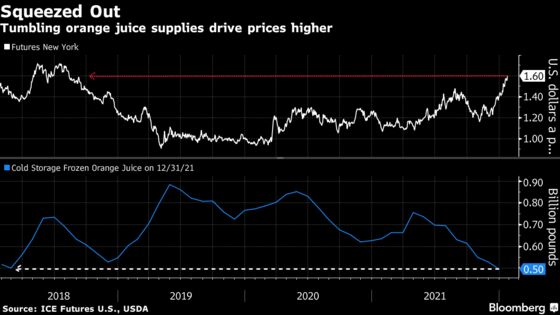 The March contract rose as much as 4% to $1.62 a pound, the priciest since August 2018. The premium for product delivered in March rather than in May is up over 1000% this year, showing buyers' urgency in the thinly traded market made famous by the movie Trading Places starring Eddie Murphy. In the 1983 movie, the fictional Duke brothers success on the trading floor depends on whether Florida's orange crop has been damaged.
Freezing temperatures may not last more than two hours, reducing the danger for trees or fruit, Lerner said. Damages to leaves of trees could also occur, which would affect the development of next year's harvest. Still, it's early and the forecast could change. Growers are expected to irrigate crops before the chill, which would produce ice around 32 degrees Fahrenheit, protecting them from deeper readings. 
U.S. juice reserves have fallen for nine straight months, the longest streak since 1964, to the lowest since 1918. That's partially influenced by the fact that most juice is now consumed fresh, whereas in earlier decades, the majority was made from concentrate. 
Overall consumption has fallen over the past two decades, and U.S. retail sales have fallen in the season started Oct. 1., with prices rising 5.7%.
Orange juice futures "will rally higher if there's damage," said Jack Scoville, a vice president for Price Futures Group in Chicago. "Higher prices won't help the outlook" for falling consumer demand, though.
Tapping global supplies poses challenges. Brazil, the world's biggest grower of oranges, also saw a smaller crop last year, eroding its reserves. The cost of importing has also soared amid elevated freight rates, while trucking shortages are causing delays to shipments. 
In other soft commodities, raw sugar futures fell as much as 2.1% to 18.38 cents a pound, a fifth straight loss, to the cheapest since Jan. 14. The sweetener is under pressure from improving supplies this year for top shippers Brazil, Thailand and India. Cocoa, cotton and coffee rose in New York.