Stuck Americans Spend on DIY Projects and Crocs: Earnings Wrap
Stuck Americans Spend on DIY Projects and Crocs: Earnings Wrap
(Bloomberg) -- Housebound Americans' new buying habits are showing up in everything from home-renovation supplies to takeout chicken and casual footwear.
With the third-quarter earnings season well underway, the results are showing how coronavirus shutdowns are helping some companies absorb the impact on the economy, while others struggle.
For instance, paint maker Sherwin-Williams Co. on Tuesday raised its full-year guidance and beat third-quarter expectations, citing "continued and unprecedented strength" in do-it-yourself demand as people spent to spruce up their homes. Restaurant Brands International Inc. said sales at its Popeyes chain jumped 22% amid strong demand for drive-through and takeout. Crocs Inc. saw sales climb 16%.
At the same time, dressy shoemaker Steven Madden Ltd. posted a 31% drop in revenue. Xerox Holdings Corp. also took a hit from the shift to working from home, with equipment sales falling 15% amid business closures and office-building capacity restrictions.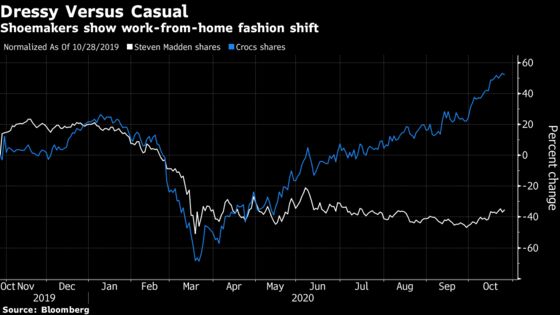 Read more: Volatility Tends to Subside as $7 Trillion Club Reports Earnings
Overall, the earnings season so far has been strong. With about one-third of S&P 500 companies having reported as of Tuesday morning, more than 75% have beat sales estimates and nearly 85% have beat earnings expectations. That may reflect a low bar that analysts had set heading into the quarter, according to Deutsche Bank's chief strategist Binky Chadha.
"Companies that have reported have beat estimates by a massive 16.3% in aggregate, only modestly lower than the record 20.3% in Q2," Chadha wrote in a note. The consensus for the fourth-quarter may also be too conservative, he said.
Pharma giants Merck & Co., Pfizer Inc. and Eli Lilly and Co. also joined the nearly 700 companies set to report earnings this week.
AMD Agrees to Buy Chipmaker Xilinx for $35 Billion in Stock
Hedge Funds' Shot at Stock Secrecy Fades as SEC Shelves Revamp
U.S. Durable Goods Orders Rose More Than Forecast in September
All-In Push for Vaccine in U.S. Raises Risk Virus Will Linger
Here's today's top earnings news by sector:
Eli Lilly reported third-quarter adjusted earnings per share and revenue results that missed analysts' estimates, while maintaining its full-year guidance. The company said that the EPS miss was partly a function of its higher R&D spend on novel therapies to combat the coronavirus. Lilly spent $125 million on pandemic-response efforts in the quarter.
Merck released updated 2020 guidance that included upbeat profit expectations for the year. The company also reported third-quarter adjusted earnings per share and revenue that beat analyst expectations. However, Merck said "lower back-to-school demand" in the pandemic has carved into sales of vaccines.
Pfizer reported revenue that came in slightly below analyst estimates and it tightened its guidance for the year. The company said it has enrolled more than 42,000 patients in its Covid-19 vaccine trial, and more importantly, almost 36,000 have received their second dose as of Oct. 26.
Caterpillar said it sees "positive signs in certain industries and geographies" while failing to give reassurance that the worst of the hit from the coronavirus pandemic is behind the heavy-equipment maker. The company said machine sales fell 20% in September on a rolling three-month basis.
Restaurant Brands announced a plan to overhaul its drive-thrus with predictive technology after reporting another quarter of falling sales. The enhancements include digital screens with "predictive selling" technology and contactless payment options, the Burger King owner said. The revamped plan was announced as the company reported third-quarter sales of $1.34 billion, down 8.3% year-over-year but still slightly ahead of analyst expectations.
Harley-Davidson reported better-than-expected profit as CEO Jochen Zeitz's moves to cut costs and boost margins on a smaller revenue base paid off in the third quarter. The motorcycle maker said dealer inventory fell more than 30% compared with a year ago.
Steven Madden reported adjusted earnings per share for the third quarter that exceeded the average analyst estimate, but revenue dropped 31%.
Crocs reported adjusted earnings per share and revenue for the third quarter that topped the average analyst prediction. The shoe company said digital sales in the quarter grew 35.5% to 37.7% of total revenues versus 32.2% for the same period last year, with growth in all regions.
Teck Resources' revenue for the third quarter fell short of the average analyst estimate. The company reduced its capital expenditures, capitalizing stripping and zinc unit cost guidance for the second half of 2020.
Sherwin-Williams reported third-quarter earnings per share and net sales that beat expectations. CEO John Morikis pointed to "continued and unprecedented strength in our DIY business," as well as solid demand in residential repaint and new residential segments, for the company's strong third-quarter results.
Xerox reported revenue for the third quarter that came in higher than the average analyst estimate despite business closures and office building capacity restrictions. The workplace technology company said equipment sales revenue fell 15% in the quarter, particularly in the mid-range and high-end products used in offices.
JetBlue reported operating revenue for the third quarter that beat the average analyst estimate. The airline said it expects capacity to decline about 45% year-over-year in the fourth quarter compared to a drop of 58% in the third quarter, reflecting its expectation for improved bookings.