Stocks Roar Back, Erasing Most of Yesterday's Loss: Markets Wrap
  All you need to know about what's moving markets today.  
(Bloomberg) -- U.S. stocks surged back into positive territory, with the Nasdaq Composite Index registering its biggest increase since March, a day after a broad-based rout sent equities negative for the year. Yields on Treasuries rose and the dollar strengthened to the highest level this year.
The S&P 500 Index finished higher for the first time in seven days, propelled by strong earnings results from Twitter, Microsoft and Tesla. The Dow Jones Industrial Average surged 400 points, after tumbling 600 points Wednesday. The optimism may turn out to be short lived, with shares of Amazon and Alphabet falling after the tech bellwethers reported disappointing results following the close of regular trading.
"There's a transition going on and when there's a transition going on, there's a lot of volatility both up and down," Randy Swan, founder of Swan Global Investments, which manages about $5 billion, said in an interview at Bloomberg's New York headquarters. "People are trying to figure out where things are going to go."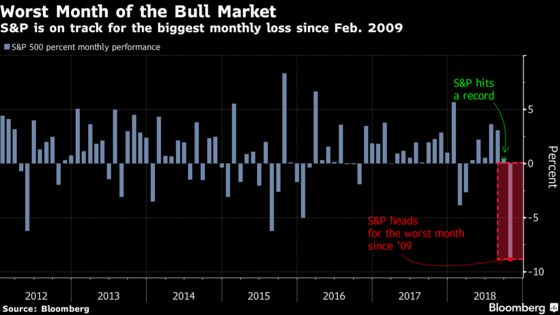 Sentiment has been tested in October, with global stocks poised for their worst month in more than six years as the effects of trade tensions and geopolitical uncertainty begin to bite. Investors remain apprehensive as a flood of earnings, while mostly stellar, have come with warnings about the future impact of tariffs and rising costs. Central banks remain in the spotlight, with investors speculating what, if any, impact the market uncertainty will have on policy decisions.
"The question is: can we go the distance?" said Donald Selkin, chief market strategist at Newbridge Securities. "You have to see how it goes."
Elsewhere, European stocks edged higher. The sentiment was darker in Asia, where shares fell for a third day, with Japan's Topix index falling to the lowest in more than a year. Oil advanced from a two-month low.
The euro weakened after European Central Bank President Mario Draghi downplayed recent slowdown in economic momentum and Italian fiscal risks, reiterating that growth is returning to potential. The ECB kept its target rate unchanged at zero.
Here are some key events coming up this week:
U.S. gross domestic product growth may have slowed in the third quarter, yet remained near its best pace since mid-2015, according to forecasts ahead of Friday's release.
These are the main moves in markets:
The S&P 500 rose 1.9 percent to 2,705.64 as of 4:18 p.m. in New York, while the Dow Jones Industrial Average gained 1.6 percent to 24,983.37 and the Nasdaq Composite Index increased 3 percent to 7,318.34. All three benchmark indexes are still down this week.
The Stoxx Europe 600 rose 0.5 percent.
The U.K.'s FTSE 100 gained 0.6 percent.
Germany's DAX Index gained 1 percent for the first increase in seven days.
The MSCI Emerging Market Index eased 0.4 percent.
The MSCI Asia Pacific Index slumped 1.9 percent.
The Bloomberg Dollar Spot Index gained 0.1 percent.
The euro weakened 0.2 percent to $1.1368.
The British pound fell 0.5 percent to $1.2814.
The Japanese yen weakened 0.3 percent to 112.55 per dollar.
The yield on 10-year Treasuries rose three basis points to 3.13 percent, while the two-year note yield increased two basis points to 2.85 percent.
Germany's 10-year yield was little changed at 0.40 percent.
West Texas Intermediate crude rose 0.4 percent to $67.07 a barrel.
Gold fell 0.3 percent to $1,230.40 an ounce.
To contact the reporters on this story: Vildana Hajric in New York at vhajric1@bloomberg.net;Sarah Ponczek in New York at sponczek2@bloomberg.net
To contact the editors responsible for this story: Jeremy Herron at jherron8@bloomberg.net, Dave Liedtka