National Express in Talks to Buy U.K. Bus Rival Stagecoach
National Express Group Plc is in talks to buy rival bus operator Stagecoach Group Plc in a deal that would unite two of Britain's biggest transport firms as the industry faces a costly transition to electric vehicles.
The 442 million-pound ($604 million) takeover proposal, confirmed by the companies Tuesday, would help National Express expand amid a rebound in commuter and leisure travel from the Covid-19 crisis, while keeping down costs through the sharing of bus depots, routes and office functions.
A bigger group would also be better placed to make the hefty investments required as Britain moves to de-carbonize its bus fleet.
Stagecoach investors would get 0.36 new National Express shares for each one currently held, according to statements from the firms confirming a Bloomberg News report on the potential deal. The bid is worth 80.28 pence per share based on Monday's close, representing an 18% premium.
Jefferies International analyst Becky Lane said a transaction looks "financially attractive," though there may be some regulatory concerns around market share, with the combined companies controlling a third of the U.K.'s regional bus market and two-thirds of the long-distance sector.
National Express was priced 8.5% higher at 242 pence as of 10:18 a.m. in London, giving it a market value of 1.49 billion pounds. Stagecoach jumped 22% to trade at 83 pence a share, with the companies the two biggest gainers on the 609-member FTSE All-Share Index of London-traded stocks.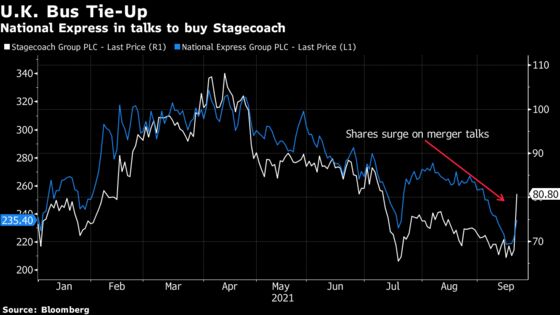 The approach for Stagecoach comes after its co-founders, Scottish businessman Brian Souter and his sister Ann Gloag, began selling down a near 30% stake in April and indicated that they wanted to cut the holding to 5% in a decade.
U.K. bus companies are also refocusing on the challenges of moving to all-electric fleets after largely exiting train operations they'd entered with privatization in the 1990s, squeezed out by state-owned European companies with access to cheaper cash.
National Express exited U.K. rail in 2017, while Stagecoach said in 2019 it was quitting the sector after being disqualified from bidding for three franchises including the prestigious West Coast route it had operated with Virgin Trains.
Perth, Scotland-based Stagecoach operates over 8,000 buses serving more than 100 towns and cities, including operations in London, Manchester, Liverpool, Newcastle and Sheffield. It also runs low-cost intercity service Megabus.
National Express is in acquisition mode after appointing former FedEx Corp. executive Ignacio Garat as chief executive officer last year. The company, which has a market value of 1.45 billion pounds, is the biggest U.K. operator of long-haul coach services and the second-largest school bus provider in the U.S. Its bus division is the market leader in England's West Midlands region.
Stagecoach in June reported full-year sales and profit that beat estimates, helped by the easing of Covid restrictions and a rebound in traffic. The company is targeting a zero-emission U.K. bus fleet by 2035 and forecast a "positive outlook" for the bus, coach and tram services.
Ray O'Toole, chairman of Stagecoach since Souter stood down at the end of 2019 and also a former National Express executive, would become chairman of the combined group should the merger go ahead, with Garat as CEO.
A tie-up would mark the latest round of dealmaking in the bus industry. FirstGroup Plc agreed earlier this year to sell its U.S. school bus business for $4.6 billion sale to Swedish investment firm EQT AB amid pressure for the U.K. transport group to realize the value of its global assets.
National Express agreed in June to buy Spanish bus group Transportes Rober in a 13 million-euro ($15 million) transaction.