Spain's Green Boom Hands Utilities Top Spot in Stock Benchmark
Spain's Green Boom Hands Utilities Top Spot in Stock Benchmark
Spain's bets on renewable energy are paying off for the country's utilities, which have now overtaken banks as the biggest sector on the country's equity benchmark.
Utilities comprise 25% of the IBEX 35 Index, up from 19% at the end of last year, while the weighting of the financial sector has fallen to 22% from 27%. Banks are among the worst performers on the benchmark in 2020, as the pandemic has spurred worries about soaring bad loans.
"We've seen the big shift on the weighting this year as both sectors are going in opposite directions," said Ignacio Cantos, investment director at ATL Capital in Madrid. "Banks are in a very complicated business and regulatory situation with only valuation being a positive for their investment case, while utilities are benefiting from new money pouring into renewable assets."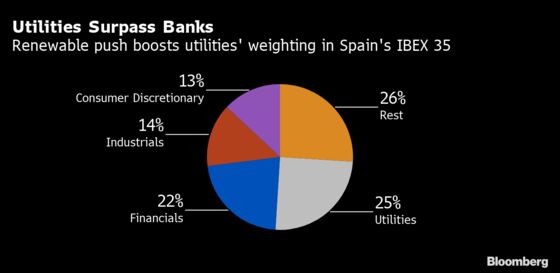 The Spanish government wants renewable energy to have a central role in its broader plan to achieve carbon neutrality by 2050. A climate change bill now being debated in parliament includes a target to boost the amount of renewable power on the grid to 70% by 2030, from about 40% currently.
In June, it streamlined the process to approve renewable projects and it estimates that energy transition plans will attract over 200 billion euros ($239.6 billion) within the next decade.
The best-performing stock on the IBEX 35 this year is solar power company Solaria Energia y Medio Ambiente SA, which has nearly tripled, while Banco de Sabadell SA is the worst, down 67%. All seven index members in the financial sector are in the red in 2020, versus only three of the seven utilities.
The largest utilities are pledging to increase their green presence, with Iberdrola SA last month announcing 75 billion euros of investments through 2025 as part of its program to triple renewable energy capacity by the end of the decade, and Endesa SA saying last week it sees renewables as its "main growth platform."
It's not just utilities looking to get on the clean energy bandwagon. Repsol SA, Spain's biggest oil company, vowed last week to expand its renewable capacity fivefold during the next decade.
Appetite for sustainable stocks is growing. Soltec Power Holdings SA, the only initial public offering so far this year in Madrid, has jumped more than 30% since its October debut, and more renewables are looking at going public.
On the flip side, banks have struggled to hold onto index supremacy. Banco Santander SA has lost almost 18 billion euros in market capitalization this year and Banco Bilbao Vizcaya Argentaria SA, Spain's second-largest lender, more than 6 billion euros. That's shrinking the financial sector, which only three years ago had a weighting of 35% on the IBEX 35.
"When Spain's economy recovers banks' shares could have a come back and gain some of the lost ground, but I certainly not see that happening in the first half of 2021," Cantos said.