Spain's ACS Confirms Approach to Atlantia on Toll-Road Unit
Spain's ACS Is Said to Approach Atlantia on Autostrade Road Unit
(Bloomberg) -- Spanish construction company ACS Actividades de Construccion y Servicios SA has confirmed that it approached Italy's Atlantia SpA in a display of interest in the firm's domestic highway unit.
Madrid-based ACS said Friday that it sent a letter to Atlantia's board expressing interest in taking part in the acquisition of a stake in road unit Autostrade per l'Italia SpA alongside other potential investors including Italy's state-backed lender Cassa Depositi e Prestiti SpA.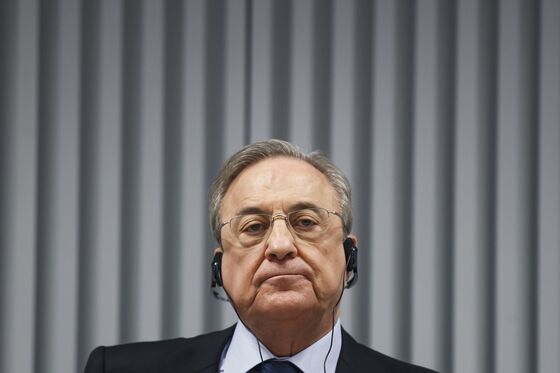 In the letter to Rome-based Atlantia, Florentino Perez, ACS's chairman and top shareholder, valued 100% of Autostrade at up to 10 billion euros ($11.9 billion), according to people familiar with the matter, who asked not to be named because the letter wasn't public.
"We believe this transaction would represent a unique opportunity for Atlantia," Perez wrote in the letter, which was seen by Bloomberg. A move could be "the first step toward a potential future merger" to create the world's largest motorway concessionaire, Perez said.
ACS dropped 0.4% to 27.72 euros per share at 9:35 a.m. in Madrid. Atlantia rose 1.1% to 16.47 euros per share in Milan, after having risen 3.1% yesterday, when the approach was first reported.
Perez, who's known for his role as chairman of the Real Madrid soccer club, said earlier this week he was interested in creating a dominant highway operator and was open to a deal on Autostrade.
An investor group led by Cassa Depositi has already made a revised offer for a controlling stake in the unit in an effort to seal a deal after months of acrimonious talks. The new bid doesn't change the group's 9.1 billion-euro valuation of Autostrade, but it lowers legal provisions linked to the sale, resulting in improved overall terms, according to people familiar with the matter.
Atlantia, whose biggest single investor is the billionaire Benetton family, and ACS have jointly controlled highway operator Abertis Infraestructuras SA since 2018, after the two firms competed to acquire it before ultimately forming a joint venture for the purchase.
The latest move by ACS comes after the Madrid-based company last week completed an agreement to sell its industrial engineering unit to France's Vinci SA, in a 4.9 billion-euro deal.
Atlantia, an infrastructure giant with holdings in motorways, airports and payment systems across the world, has been skirmishing with the Italian government over a sale of Autostrade ever since a deadly 2018 bridge collapse on a section of highway managed by the unit.
While Atlantia has already rejected four previous bids deemed inadequate by its board, the Benettons have been pushing for a deal with Cassa Depositi.