Southwest Air Sees Profit This Quarter, Dividend in 2023
Southwest Air Sees Profit This Quarter, Dividend in 2023
(Bloomberg) -- Southwest Airlines Co. expects to be profitable this quarter and all of next year, on its way toward generating as much as $1.5 billion in earnings and paying dividends in 2023.
The discount carrier revised its fourth-quarter outlook Wednesday after a booming Thanksgiving holiday, saying revenue would be no more than 15% below where it was before the coronavirus decimated travel. Southwest previously said sales could tumble as much as 25% from pre-pandemic levels in 2019 and that it didn't expect to post a profit this quarter. 
The update was included in a five-year plan to boost revenue through 2026 with increased business traffic, a new fare segment rolling out next year and a renewed Chase co-branded credit card deal. The airline also offered an outline for increasing productivity lost during the pandemic. The blueprint, laid out for investors and analysts, set priorities for the start of Bob Jordan's term as chief executive officer after he takes over from current CEO Gary Kelly on Feb. 1.
Southwest climbed 1.3% to $45.82 at 10:42 a.m. in New York. The stock had dropped 3% this year through Tuesday, while the S&P 500 Airlines Index fell 1.4%. 
Southwest expects its initiative will start improving profit next year, building to between $1 billion and $1.5 billion in incremental earnings before interest and taxes in 2023.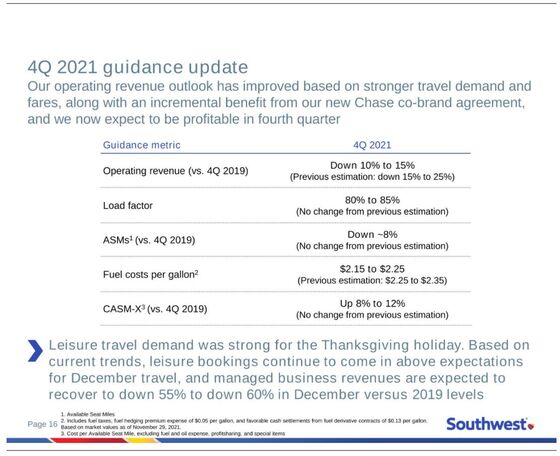 The airline said it should resume paying dividends in 2023 if the pandemic recovery goes as expected. The carrier had notched a string of consecutive quarterly payouts for 43 years that ended with the first quarter of 2020 as lockdowns began. 
Southwest sees 2022 as a transition year, though it projected generating "solid profits and margins." It will expand its fleet 12% to 814 aircraft, and expects flight capacity to range from down 2% to up 3% compared with 2019. Unit costs excluding fuel, profit sharing and special items, a gauge of efficiency, will be 10% to 14% higher in the first quarter than in the same period of 2019 and up as much as 12% for the full year. 
The Dallas-based airline expects to restore the "vast majority" of its pre-pandemic network, with more than half of its peak-day trips returning by next summer. 
Despite the appearance of the coronavirus omicron variant, leisure bookings are continuing above expectations for December, Southwest said. Corporate travel revenue for the month will be down as much as 60% from 2019 levels, however. 
The company expects that improvement in free cash flow and debt repayments will allow stock repurchases. U.S. airlines that took financial aid from the government were prohibited from paying dividends or buying back shares for a specified period.