ReWalk Stock Triples as Robotic Suit for Stroke Victims Gets FDA Nod
(Bloomberg) -- Shares of ReWalk Robotics Ltd. tripled after the Food and Drug Administration said the small-cap device company could start selling its ReStore soft exoskeleton-suit system.
ReStore is meant to be used at rehabilitation centers in the U.S. for people who are having trouble walking after a stroke. The company plans to sell the system for $28,900 and will also offer leasing options.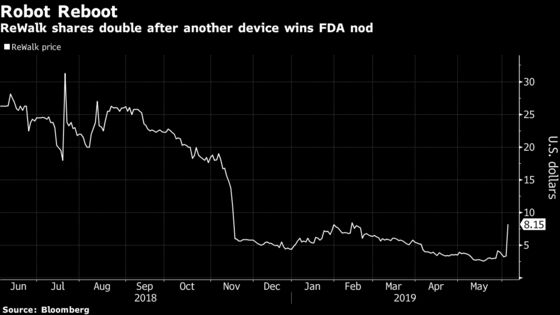 "The current gait training reimbursement codes enable immediate penetration and sales growth as part of our pathway to become a break even and profitable company," Larry Jasinski, ReWalk's chief executive said in a statement. With other similar products being marketed in the U.S., reimbursement for ReStore will be key.
The shares had languished even after the company's first exoskeleton won approval in 2014. On Wednesday, the stock jumped 117% at 12:21 p.m. in New York, after more than tripling earlier in the session.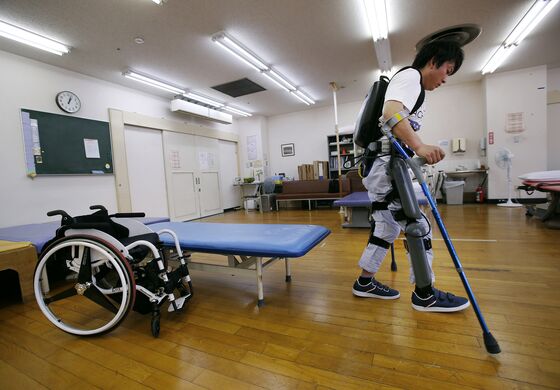 The ReStore suit may get stronger reimbursement than ReWalk as insurers already reimburse for stroke therapy and gait training, HC Wainwright analyst Swayampakula Ramakanth wrote in a note in May. He expected ReStore to be offered at "competitive pricing." Ramakanth has a neutral rating on the stock and is the only analyst coverage tracked by Bloomberg.
To contact the reporter on this story: Cristin Flanagan in New York at cflanagan1@bloomberg.net
To contact the editors responsible for this story: Catherine Larkin at clarkin4@bloomberg.net, Scott Schnipper