Sheldon Solow, Billionaire Real Estate Developer, Dies at 92
(Bloomberg) -- Sheldon Solow, a Brooklyn-born college drop-out who became a real estate billionaire by developing architecturally distinctive high-rise buildings in Manhattan, has died. He was 92.
He died Tuesday at Weill Cornell Medical Center in New York after a month-long battle with lymphoma, according to Mia Fonssagrives Solow, his wife of 48 years.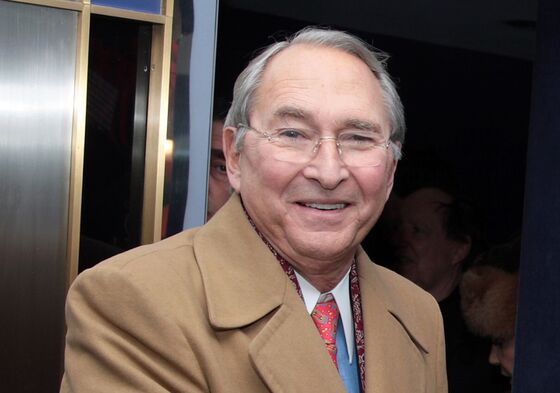 Solow was best known for the 50-story office tower at 9 West 57th Street in Manhattan. A black building with upwardly sloped glass sides, it offered unbroken views of Central Park and was marked with a large red sculpture in the form of the number 9 on the sidewalk in front of its main entrance. The skyscraper's tenants include hedge funds, private equity firms and luxury goods giant Chanel.
The property developer's holdings included more than 2,000 apartments in New York City. Beginning in the early 2000s, Solow also began purchasing lots along the East River near the United Nations building, paying more than $600 million for a 9-acre site in 2000. He took until 2016 to break ground on the first building of a planned complex — a black 42-story residence at 685 First Ave. designed by Pritzker Prize-winning architect Richard Meier.
He amassed a net worth of $3.1 billion, according to the Bloomberg Billionaires Index.
Known for his litigiousness, Solow filed a steady stream of lawsuits since the 1970s. In 2006, he sued Conseco Inc., owner of the Edward Durrell Stone-designed General Motors Building at 59th Street and Fifth Avenue in Manhattan. He argued unsuccessfully that the $1.4 billion auction sale of the 50-story property to rival developer Harry Macklowe was rigged to exclude his bid. A judge dismissed the suit in 2009.
In 1975, Solow sued one of his tenants, Avon Products Inc., which had rented more than 20 floors of his then brand-new 9 West 57th Street building because the company had referred to his tower as "the Avon Building." The case was dismissed, but he also later sued Avon for $80 million for failing to restore the building to its original condition when its lease expired in 1997. Avon settled the matter for $6.2 million in 2004.
Solow sued fellow real estate tycoon Peter Kalikow, a friend, over a $7 million loan in the mid-1990s. Kalikow had angered Solow by paying back the loan early, depriving Solow of the 9% interest he was expecting. He claimed Kalikow failed to disclose all of his assets at the time of the loan. The suit was dismissed.
Solow, president of the Solow Art and Architecture Foundation, which supports research for scholarly studies, collected high-end art, including works by Botticelli, Henri Matisse and Franz Kline.
He sometimes sold major works, including an Alberto Giacometti sculpture for $141.3 million and an Amedeo Modigliani painting for $42.1 million.
Sheldon Henry Solow was born in Brooklyn on July 20, 1928. His father Isaac was a bricklayer before becoming a small-time builder. His mother Jennie was a homemaker.
He studied engineering and architecture at New York University before dropping out in 1949. The following year, Solow and his father got a government-insured loan to build a 72-family apartment building in Far Rockaway that his father named Sheldon Gardens, according to the New York Times. Solow moved on to develop homes in Long Island and a shopping center. In 1962, at the age of 34, he moved his office to 410 Park Avenue in Manhattan.
In the 1960s, while marketing a luxury apartment complex on the Upper East Side, he got a suggestion from a broker to assemble a multilot site on West 57th Street. After considering a high-rise residence, he changed plans to an office tower to compete with the new, trend-setting white marble GM Building.
Acquiring enough land was the key obstacle. To keep his plan secret, Solow bought the first parcel in 1965, using a dummy company registered to his sister. It took Solow, then a well-tailored bachelor who drove a Rolls Royce, five years and $12 million to acquire the needed 61,800 square feet.
"There were 14 buildings," he said about his acquisition plan. "All someone would have to do is come in, take one, and that would be that."
The building, which cost about $40 million to construct, opened with 1.5 million square feet of office space.
In addition to his wife, he is survived by two sons, Stefan and Nikolai; and niece Jennifer Wolf.