Saudi Prince to Face Protest Over Khashoggi on Tunisia Visit
Saudi Prince to Face Protests Over Khashoggi on Tunisia Visit
(Bloomberg) -- Tunisian journalists and activists began demonstrations against Tuesday's visit by Saudi Crown Prince Mohammed bin Salman, displaying a large banner of the kingdom's de facto leader with a chainsaw to protest the killing of critic Jamal Khashoggi.
MBS, as the power behind the Saudi throne is known, is expected to arrive in the North African country as part of his first overseas trip since the murder of Khashoggi at the kingdom's consulate in Istanbul last month provoked an international outcry and strained ties with some western countries.
Several dozen activists rallied outside the Municipal Theater in central Tunis Monday evening to protest against the prince, with another demonstration planned for the next day when he arrives. "Bin Salman is a criminal," they chanted.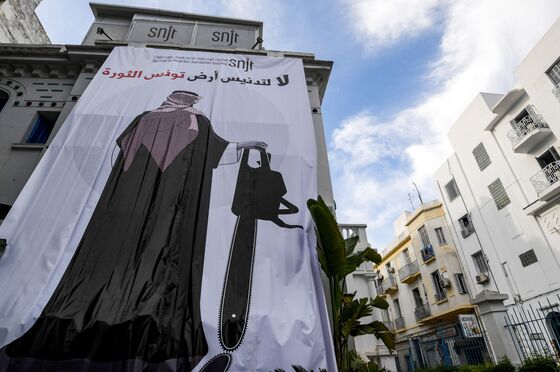 The tour of regional allies is probably calculated to show it's business as usual for Prince Mohammed. He flew to the U.A.E. on Thursday, moving onto Bahrain and is stopping by Egypt for a two-day visit before heading to Tunisia.
Tunisian activists had unsuccessfully tried to have a court bar him from the country, whose revolution inspired the Arab Spring uprisings of 2011. The Journalists Syndicate held a news conference on Monday, saying activists would hold a protest against the prince in downtown Tunis.
"We will take a stand against this visit using all forms of protest," syndicate member Sakina Abdel Samad said at a press conference with 11 other civil society groups.
The banner, hung down the side of a white-painted villa, depicts a man in traditional Gulf robes, his hand resting on a chainsaw, an apparent illusion to the dismemberment of Khashoggi's body. "No to defiling the land of revolutionary Tunisia," it reads.
Saudi Arabia says the 33-year-old de facto ruler was not aware of any plan to kill Khashoggi, who went into exile last year and had been writing columns for the Washington Post criticizing the prince's policies. The prosecution has charged 11 people over the murder and is investigating a close aide to Prince Mohammed.
The prince also plans to attend the Group of 20 summit in Argentina later this month, according to the Saudi-owned Al Arabiya television. President Donald Trump said he'd meet Prince Mohammed at the event. Also present will be Turkish President Recep Tayyip Erdogan, who has pressured Saudi Arabia to punish whoever ordered the killing.
The controversy has prompted some U.S. lawmakers to demand sanctions, though Trump has said he will not allow it to upend relations, citing the potential impact on oil prices, weapons sales and U.S.-led efforts to curb Iranian influence in the region.
--With assistance from Samer Khalil Al-Atrush.
To contact the reporter on this story: Jihen Laghmari in Tunis at jlaghmari@bloomberg.net
To contact the editors responsible for this story: Lin Noueihed at lnoueihed@bloomberg.net, Mark Williams