Saudi Prince Says Iran Ordered Pipeline Attack as Tensions Rise
Attack by Iranian-backed Houthis undermined political efforts to resolve tensions in the Gulf: Saudi Prince.
(Bloomberg) -- Saudi Arabia accused Iran of ordering this week's attack on key oil facilities, stoking concerns that the world's largest oil-producing region is edging toward another war. Crude prices rose.
Prince Khalid Bin Salman, the vice minister for defense and brother of Saudi Arabia's de facto ruler, said on Twitter that Tuesday's drone attack, which was claimed by Iran-backed Houthi rebels in Yemen, undermined efforts to heal the divided country.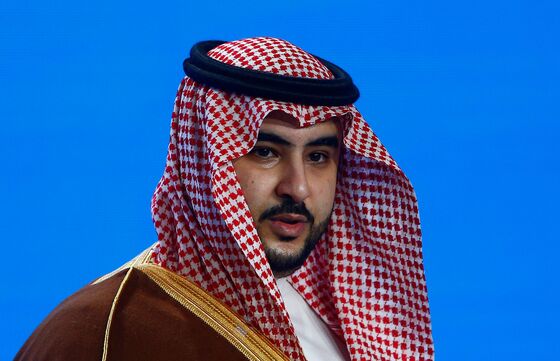 "The terrorist acts, ordered by the regime in Tehran, and carried out by the Houthis, are tightening the noose around the ongoing political efforts," Prince Khalid said, without providing evidence. "These militias are merely a tool that Iran's regime uses to implement its expansionist agenda in the region."
His comments came as Saudi-led forces launched retaliatory airstrikes against Houthi positions in Yemen, where the United Nations is working to end a four-year war that's killed thousands and left millions facing hunger and disease.
The Houthi attacks on two Aramco oil pumping stations forced an important east-west pipeline in the kingdom to close and added to friction in the Gulf, where the U.S. has tightened sanctions against Iran, demanding it stop supporting paramilitary groups across the Middle East, including the Houthis.
The pipeline has since reopened, but officials from all sides are warning that a string of recent events have pushed the region closer to a potentially devastating conflict.
Oil climbed for a third day, with Brent rising 1.4% to $72.8 in London, as Middle East tensions and falling U.S. gasoline stockpiles kept investors on edge. The mounting political dangers are likely to dominate a meeting of the OPEC oil-exporting group taking in place in Jeddah this weekend.
Gulf tensions have spiked since the U.S. stopped granting waivers to buyers of Iranian oil early this month, tightening sanctions slapped on the Islamic Republic after President Donald Trump pulled the U.S. out of the landmark 2015 nuclear deal a year ago.
With an economic crisis looming, Iran announced last week it would gradually withdraw from the multi-lateral accord intended to curb its nuclear program, unless the remaining parties throw it an economic lifeline.
Iranian Foreign Minister Mohammad Javad Zarif spent the week touring Asia to drum up economic and political support. He went to India, a significant buyer of Iranian oil, which is due to make a decision on future purchases after ongoing elections conclude. He also visited Japan, a close U.S. ally which joined European nations in urging Tehran to stick by the deal, and heads to China, another important oil purchaser, on Friday.
Iran "does not seek clashes in the region," Zarif said in an interview with Iranian state television during his Japan trip, "but it has always defended its interests forcefully and will continue to do so now."
The Houthi drone attacks came a day after four ships were sabotaged off the coast of the United Arab Emirates as they made their way toward the Strait of Hormuz, the world's foremost oil shipping chokepoint.
On Wednesday, the U.S. cited growing yet unspecified threats as it ordered the departure of non-emergency staff from Iraq, where Iran provides material and political support to several powerful militias. The U.K. also raised the threat level for its armed forces and diplomats in Iraq because of an increased security risk from Iran, two people familiar with the matter said.
The Trump administration designated Iran's elite IRGC a terrorist group in recent weeks, as it seeks to end the support the group has for years or decades lent to allies around the region.
Saudi Arabia and the U.A.E. entered the Yemen war in 2015 and have long accused Iran of providing their Houthi foes with support. The Houthis control the capital, Sana'a, and have repeatedly lobbed missiles toward Riyadh. Despite its military superiority, the Saudi-led coalition has yet to defeat the Houthis.
U.A.E Minister of State for Foreign Affairs Anwar Gargash struck a cautious note in comments to media Wednesday, saying his country would not be baited into war and would support UN efforts to broker a resolution to the impasse in Hodiedah port.
"We need to address the Houthi threat as it appears but not lose sight that we have an opportunity, imperfect as it is, to build on in order to enhance the chances of success on the political process," he said.
--With assistance from Lin Noueihed, Jessica Shankleman, Zainab Fattah, Ladane Nasseri and Golnar Motevalli.
To contact the reporter on this story: Salma El Wardany in Cairo at selwardany@bloomberg.net
To contact the editors responsible for this story: Lin Noueihed at lnoueihed@bloomberg.net, Mark Williams