Saudis Cut Oil Prices for Asia as Supply Rises and Virus Spreads
(Bloomberg) -- Saudi Arabia cut oil prices for buyers in Asia, signaling that extra supplies from OPEC and its partners could loosen the market amid the rapid spread of coronavirus.
State-controlled Saudi Aramco, the world's biggest oil company, reduced February prices for all types of crude that will be shipped to Asia, its main market. It lowered the key Arab Light grade by $1.10 from January to $2.20 a barrel above a regional benchmark.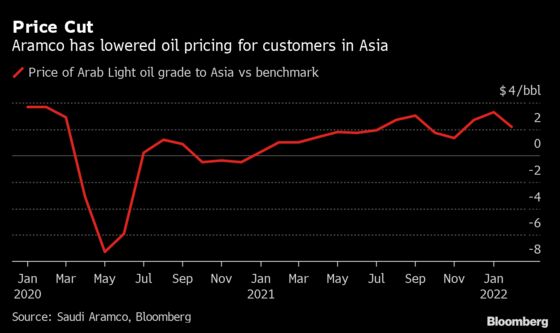 Aramco cut prices for buyers in Northwest Europe, while leaving levels for the Mediterranean region largely unchanged. All prices for U.S. customers were kept the same.
On Tuesday OPEC+, led by Saudi Arabia and Russia, decided to increase production in February by 400,000 barrels a day, even as it predicted the market would switch to being oversupplied from this month.
The group is easing huge output curbs begun in mid-2020, when demand crashed following the onset of the virus. Saudi Arabia's crude production has climbed rapidly in the past six months and reached 10 million barrels a day in December, according to data compiled by Bloomberg.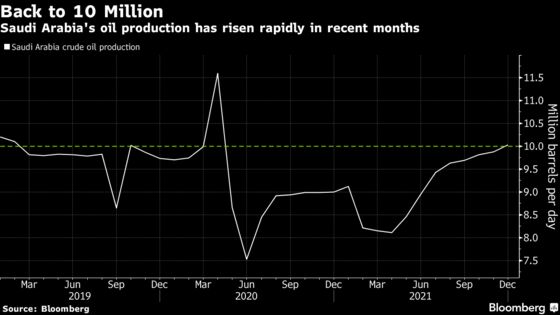 Brent crude is trading above $80 a barrel as markets largely shrug off concerns the omicron variant of the virus will lead to widespread shutdowns and stringent travel restrictions. While oil demand has held up so far, OPEC+ remains cautious and has left itself the option to pause output increases.
Aramco's decision "likely reflects concerns" about what Asia's "much more risk averse governments will do once -- not if -- omicron fully hits the region," said Henning Gloystein, director of energy and natural resources at Eurasia Group. China's zero-tolerance policy toward Covid-19 "will almost certainly dent the country's oil consumption."
Still, the cut in Asian prices was smaller than expected. Traders were forecasting a $1.25 reduction for Arab Light, according to a Bloomberg survey last week.
Saudi Arabia sends more than 60% of its crude exports to Asia, with China, Japan, South Korea and India being the biggest buyers.
More details on Aramco's monthly pricing:
Saudi Aramco Cuts Feb. Prices for All Crude Grades to Asia
Saudis Keep Oil Prices Unchanged for U.S. Buyers in February
Saudis Cuts Feb. OSPs to Northwest Europe; Med Mostly Unchanged