Sandvik CEO Emerges as Front-Runner for Top Job at ABB
Sandvik CEO Emerges as Front-Runner for Top Job at ABB
(Bloomberg) -- Sandvik AB Chief Executive Officer Bjorn Rosengren has emerged as the front-runner for the top job at Swiss engineering giant ABB Ltd., according to people familiar with the matter.
An announcement could be made in the coming weeks, though ABB has yet to make a final decision, said the people, who asked not to be identified as the deliberations are private. Both companies declined to comment. ABB shares rose as much as 2.7% Tuesday, while stock in Sandvik, a maker of cutting tools and mining equipment, fell as much as 2.1%.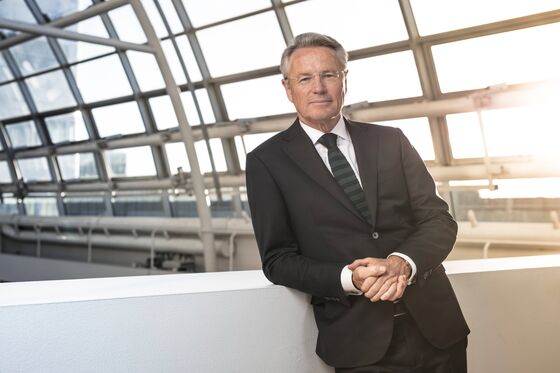 Rosengren, 60, a seasoned Swedish industrial executive, would be taking over at ABB from Chairman Peter Voser, who has been acting as interim CEO since Ulrich Spiesshofer surprised analysts in April by abruptly stepping down. Spiesshofer was under pressure from major investors. His nearly six-year stint at the helm of ABB was marked by meager stock returns and a public row with an activist shareholder, Cevian Capital.
Voser, also 60, said on a conference call last week that ABB's CEO search was going "better than planned." Rosengren in May seemed to hint in an interview with daily Dagens Industri that his time at Sandvik may be nearing an end, saying he didn't think people should stay on too long at one company as CEO and that five years might be enough. He has been in the top post at the Swedish manufacturer since 2015.
Should Rosengren take on the CEO role at ABB, he would land at a company in the midst of an overhaul. ABB is selling the bulk of its power grid division to Hitachi Ltd. for about $6.4 billion, turning its focus on robotics and automation. Spiesshofer had long resisted the move, which was pushed by Cevian.
Rosengren, who holds a post-graduate engineering degree from Chalmers University of Technology in Gothenburg, spent his formative years at Atlas Copco AB, where he was steeped in a management culture of decentralization and asset-light production that has been emulated at other Nordic companies.
Speaking at his first capital markets day after arriving at Sandvik, he made clear his unhappiness with the centralized structure built up by his predecessor.
"During my working life, the fundamentals of how I've been running businesses is a decentralized model," Rosengren said. "I am convinced that we need to give our business managers the full accountability for their businesses. They need to own their costs as well as their revenues."
In announcing Spiesshofer's departure, Voser pledged changes to the CEO role, saying it would evolve to focus on strategy and company culture while allowing ABB's four businesses to be run more independently.
The style has been a key component of the turnaround Rosengren accomplished at Sandvik. He rebuilt shareholder confidence by delivering on financial goals ahead of schedule, having benefited from an uptick in demand. In addition to decentralizing Sandvik's structure and reducing costs, he has sold units including a steel conveyor-belt business, and prepared for a spinoff of the company's steel business.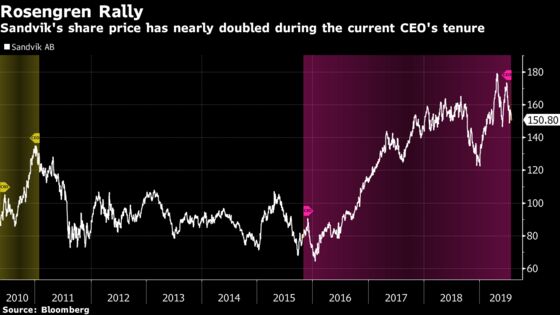 Shares in Sandvik have approximately doubled since Rosengren took the helm. Earlier this month, the company said it will cut 2,000 jobs as demand from the automotive and general engineering sectors weakened toward the end of the second quarter.
At ABB, he would face a company that is emerging from a period of turmoil. Just before the former CEO's exit, shareholder Artisan Partners added to the pressure by calling for a further breakup of the company through the separation of its electrification business. The proposal was later endorsed by Cevian co-founder Lars Forberg, who sits on ABB's board.
--With assistance from Leonard Kehnscherper.
To contact the reporters on this story: Albertina Torsoli in Geneva at atorsoli@bloomberg.net;Jan-Henrik Förster in Zurich at jforster20@bloomberg.net;Niclas Rolander in Stockholm at nrolander@bloomberg.net
To contact the editors responsible for this story: Lukas Strobl at lstrobl@bloomberg.net, ;Beth Mellor at bmellor@bloomberg.net, Tara Patel, John Bowker