Russia's Only Aircraft Carrier Hit by Fire in Latest Mishap
(Bloomberg) -- A fire broke out on Russia's only aircraft carrier, the Admiral Kuznetsov, injuring as many as 12 crew members and killing at least one person, in the latest mishap to plague the Soviet-built vessel.
The blaze started in the ship's power plant while the vessel was moored at the Arctic port of Murmansk for an overhaul. The fire spread to an area of as much as 600 square meters (6,500 square feet), Russian media reports said. Human error was likely to blame, the head of the state-run United Shipbuilding Corporation, Alexei Rakhmanov, said, according to the Interfax news service. He said open flames had been extinguished by mid-afternoon and that the blaze wouldn't delay the renovation of the vessel.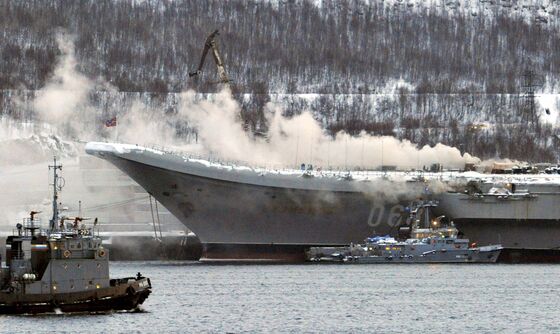 One sailor died, Interfax reported, citing the navy. Twelve sailors were injured while putting out the fire, mostly suffering smoke inhalation, the official Tass news agency reported, citing an emergency-services official it didn't name. Tass said the Northern Fleet put the number of injured at 10 and said no weapons were aboard the vessel at the time.
The Admiral Kuznetsov, launched in 1985 as the Leonid Brezhnev, was deployed in recent years to Syria in support of the Russian military campaign there. In 2018 the ship started to undergo repairs scheduled to last two to three years, the Izvestia newspaper said.
The aircraft carrier has had a troubled record. In 2012, it broke down in the Bay of Biscay and had to be towed thousands of kilometers to its home port of Murmansk. In 2009, it spilled hundreds of metric tons of oil off the coast of Ireland and caught fire near Turkey, an accident in which one sailor died. Last year, a crane fell through its deck when the floating drydock holding the ship sank.
--With assistance from Stepan Kravchenko.
To contact the reporter on this story: Henry Meyer in Moscow at hmeyer4@bloomberg.net
To contact the editors responsible for this story: Gregory L. White at gwhite64@bloomberg.net, Tony Halpin