Gazprom Exits German Unit Without Disclosing New Ownership
(Bloomberg) -- Russian energy giant Gazprom PJSC said it has exited its German subsidiary, which owns several storage facilities across the country, the company's trading arm in the U.K. and units from Switzerland to Singapore.
The gas producer no longer owns Gazprom Germania GmbH and all of its units, including London-based Gazprom Marketing & Trading, it said in a statement on Friday, without disclosing a new ownership structure. Separately, the trading arm said it wasn't in a position to comment on the new ownership, but added it was working with regulator Ofgem to mitigate risks to the U.K. market.
Gazprom subsidiaries in Europe have come under pressure as clients and business partners refuse to do business with them following Russia's invasion of Ukraine. The German government has been weighing options for Wingas GmbH -- a part of Gazprom Germania that supplies about 20% of the local gas market -- people familiar with the matter said this week.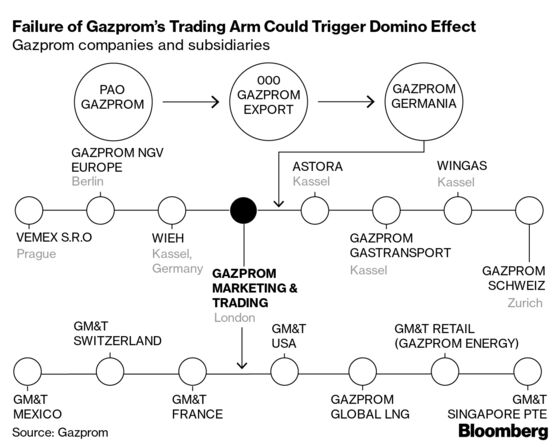 The British government has made plans to nationalize Gazprom Energy, a unit of Gazprom Marketing & Trading that supplies about a fifth of the U.K. market. The trading units owns the hedges -- the energy previously purchased to supply clients -- of both Gazprom Energy and Wingas. Without those, customers could be left to pay the current high spot prices.
Gazprom Marketing & Trading "fully recognizes the material impact" it could have in the U.K. and European energy markets, and as a result in the economy, the trading arm said on its website. "We are therefore steadfastly committed to mitigating any adverse impacts, working very closely at present with the U.K. energy regulator ('Ofgem') and other U.K. government agencies to manage these risks."
Gazprom Marketing & Trading is facing liquidity problems as banks delay its transactions and peers refuse to deal with it, people with knowledge of the situation said last week. German newspaper Handelsblatt reported Thursday that Germany was considering nationalizing or even expropriating Gazprom's local subsidiaries, citing sources in the government. 
With assistance from Bloomberg