Russian Oil Flow to Unscathed by Coronavirus as OPEC+ Meets
Russian Oil Flow to Unscathed by Coronavirus as OPEC+ Meets
(Bloomberg) -- Russia's oil exports to Asia were almost unscathed in February amid the coronavirus outbreak, potentially limiting the nation's motivation to back deep production cuts when the OPEC+ alliance meets this week.
OPEC's key ally has sent mixed signals to its partners on the possibility of further output curb as the virus threatens to become a pandemic and slow the global economy. President Vladimir Putin insisted Sunday Russia will cooperate with OPEC+ to balance the oil market, yet said current prices are "acceptable" for the country. Saudi Arabia's energy minister last month compared the outbreak to a blaze that needs the fire brigade.
Russia's eastbound crude-oil exports reached 1.842 million barrels a day in February, according to Bloomberg calculations based on data from the Energy Ministry's CDU-TEK unit, cited by Interfax and Sova Capital Research. The flows showed a 1.1% decline on January, mainly because pipeline supplies to China under long-term deals slipped to 794,700 barrels a day from 828,400 a day.
Oil shipments from the Pacific port of Kozmino grew 2.5% to 662,600 barrels a day, the data showed. About 70% of Kozmino shipments end up in China under spot contracts, with the remainder going to countries including Japan and South Korea, according to Russian pipeline operator Transneft PJSC. Other than China, these Asian nations are among the most affected by the virus.
Russia also sends crude to Asian markets from its Sakhalin projects operating under production-sharing agreements. Total exports from Sakhalin in Russia's Far East were little changed at 385,100 barrels a day last month.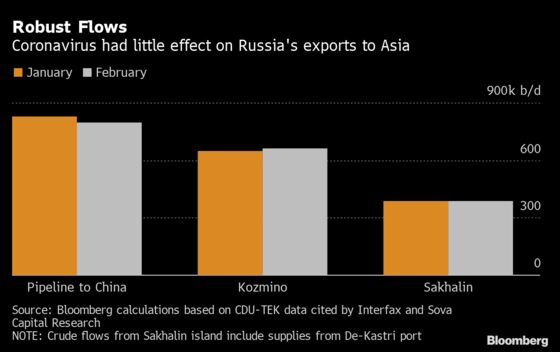 The Organization of Petroleum Exporting Countries and its allies are scheduled to gather in Vienna later this week to discuss their options. The group's technical experts last month recommended production cuts of a further 600,000 barrels a day for the second quarter. The Saudi-backed plan received support from Iran and Venezuela, but still lacks final approval from Putin.
While Brent has dropped to near $50 a barrel, Russia's budget balances at an oil price of just over $40. Its producers can withstand lower rates thanks to a flexible tax system and ruble exchange rate. China is the single biggest buyer, but more than half of Russia's total oil exports go to Europe, which has not yet been hit as hard by the virus.
Small Chinese refineries stocking up as a result of lower oil prices could be a reason for the little change in demand for Russian oil, said Ekaterina Grushevenko, an analyst at Skolkovo Energy Center. The country's crude also yields more middle distillate fuels than that from competitors and has lower sulfur content than Dubai crude or Arab Light, she said.
Rosneft PJSC, which ships about 800,000 barrels a day annually to China under long-term pipeline deals alone, said last month that the virus hadn't affected supplies to Asia. "There haven't been any drawbacks, and logistical flexibility in terms of redirecting the volumes is something the company has," a top Rosneft official said on an earnings call with investors.
Gazprombank PJSC sees Rosneft's exports volumes via the East Siberia - Pacific Ocean oil link guaranteed as the company has signed long-term contracts, according to Evgenia Dyshlyuk, an oil and gas analyst at the bank. "Sales volumes via port of Kozmino may vary, but in this case they remained stable amid narrowing spread of the ESPO crude to Dubai," she said.
Others see the disease having a significant impact. Vitol Group's chief Russell Hardy said last month that 4 million barrels a day of China's oil demand -- equivalent to about 4% of global use -- had been wiped out by the epidemic. The International Energy Agency expects worldwide consumption will drop this quarter for the first time in more than a decade.
This will put even more focus on how OPEC+ reacts at its meeting. Some Russian oil bosses however don't see a need for urgent action from the alliance.
"Every month something happens on the oil market and if OPEC+ reacts to changes every time, it will only lead to additional destabilization," Alexander Dyukov, chief executive officer of Gazprom Neft PJSC, told state-run TV station Rossiya 24 last week.
To contact the reporters on this story: Dina Khrennikova in Moscow at dkhrennikova@bloomberg.net;Olga Tanas in Moscow at otanas@bloomberg.net
To contact the editors responsible for this story: James Herron at jherron9@bloomberg.net, Christopher Sell, John Deane