Russia Jolts Global Fertilizer Market by Seeking End to Exports
(Bloomberg) -- Russia's efforts to halt fertilizer exports by domestic producers threatens to shock the global market and push prices of crop nutrients to new records, exacerbating food inflation around the world.
The Ministry of Industry and Trade urged Russian fertilizer producers cut volumes to farmers due to delivery issues with foreign logistics companies, according to a Friday statement. The country, which has been facing increasing international sanctions since invading Ukraine last week, is a major low-cost exporter of every type of crop nutrient.
"Losing Russia and their large export volumes would be a severe supply-side shock to the market," Alexis Maxwell, an analyst for Bloomberg's Green Markets, said in an email. 
Russia's move adds uncertainty to the global market when farmers in Brazil -- the world's largest fertilizer importer -- are already having trouble getting nutrients for crops. The South American nation leads global exports of soybeans, coffee and sugar, so prospects of reduced availability of fertilizer and higher costs could worsen food inflation. The threat of a rail strike in Canada, the world's top potash supplier, also raises risks of industry disruption.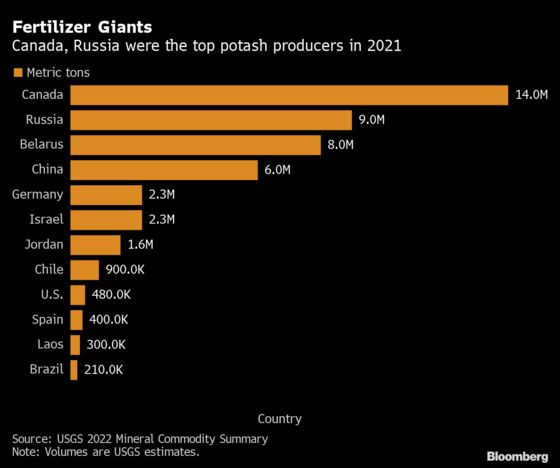 The Green Markets North American Fertilizer Price Index rose 10% Friday to its highest level since December. Prices for the popular nitrogen fertilizer urea climbed another 5% in New Orleans this week after the record 29% jump for the week ended Feb. 25.
Fertilizer prices were already soaring due to Europe's natural gas crunch that forced some producers to reduce production or, in some cases, close. Natural gas is a key ingredient in making nitrogen-based fertilizers. Elevated freight rates, tariffs, extreme weather and sanctions on Belarus, which accounts for about a fifth of the global supply of potash, also add to rising prices.
"Replacing their volumes would take nearly half a decade at the very best, and in some cases prove nearly impossible as Russia is a large source of mineral deposits found in few other global locations," Maxwell said.
Halted exports from Russia would mean higher costs for farmers worldwide, potentially increasing food costs when global prices have reached record highs. The United Nations' food price index rose almost 4% to an all-time high in February. Russia is the world's largest exporter for urea and No. 2 for potash, according to Maxwell.
"Their absence from the global market would squeeze buyers already scrambling for tons," she said.