Indian Poultry Sales Drop on Virus Rumors Spread by Social Media
(Bloomberg) -- Indian poultry sales have been plunging on rumors spread by social media claiming that chickens are linked to the coronavirus, according to the country's top animal feed company.
Industry-wide weekly sales have plummeted at least 47% in the past three to four weeks, while prices have slumped almost 60%, said B.S. Yadav, managing director of Godrej Agrovet Ltd.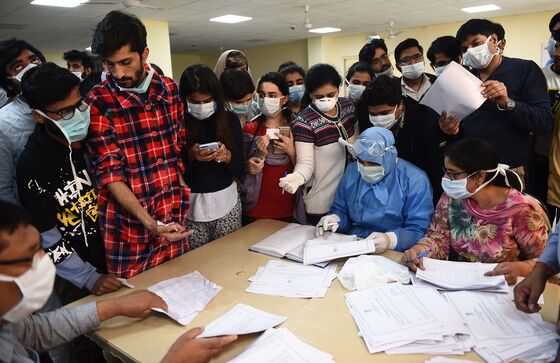 "The damage is so severe that whatever we have done in the past seven months will be wiped out if the decline in sales continues for the next one to two months," Yadav said. "Rumors will take a long time to die."
Much is still not known about the virus that's spreading around the world after emerging in central China late last year. It's thought to have transferred to humans from bats and has been shown to spread in a number of ways, but no conclusive evidence has emerged on how or whether the disease can be transmitted across species.
India's $14 billion poultry industry provides direct and indirect employment to 5 million people and supports more than 25 million farmers. With an annual production of 67,000 million eggs, India ranks second in the world.
"Surplus is building," Yadav said, adding that the birds will be sold at lower prices. "Integrated companies and farmers are losing money because of rumors about the coronavirus, which has nothing to do with chickens."
Chicken prices at farm gates have fallen to 30 to 35 rupees (42-49 cents) per kilogram, compared with 80 to 85 rupees about three weeks ago, according to Yadav. The cost of production is 75 rupees, he said.
Farmers are cutting back on production and culling parent birds. If consumption normalizes, there may be a shortage in the next couple of months and prices could rise sharply, Yadav said.
Profits before tax at the chicken business of Godrej Tyson Foods Ltd., a joint venture between Godrej Agrovet and Tyson Foods Inc., have dropped by 10% to 11% in the past 3 to 4 weeks, Yadav said.
India's chicken meat consumption is seen flat at 4.9 million tons in 2020, according to USDA data.
--With assistance from Subramaniam Sharma and Jeff Sutherland.
To contact the reporter on this story: Pratik Parija in New Delhi at pparija@bloomberg.net
To contact the editors responsible for this story: Anna Kitanaka at akitanaka@bloomberg.net, Atul Prakash, Abhay Singh