Riskier Cousins of ETFs Are Shutting Down Like Never Before
Riskier Cousins of ETFs Are Shutting Down Like Never Before
(Bloomberg) -- A risky corner of the exchange-traded universe is facing closings at the fastest pace ever.
So far this year, 54 exchange-traded notes have either liquidated or delisted, the most in a single year on record, according to data compiled by Bloomberg.
These instruments faced a wild year, even by 2020's standards, with violent market swings at the beginning of the coronavirus pandemic leading several issuers to pull the plug. Then a massive price surge in August highlighted how over-the-counter trading for ETNs can unexpectedly whipsaw investors.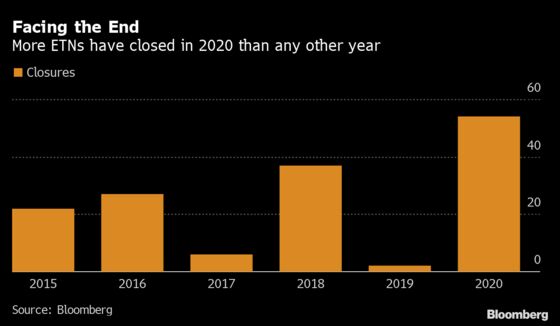 "There were some well-known events that haven't put ETNs in the best spotlight," said Linda Zhang, chief executive officer of Purview Investments. "I wouldn't be surprised that ETNs have become less popular."
The list of ETNs that were killed off this year includes a $1.5 billion volatility-linked product from Credit Suisse Group AG, two leveraged notes tracking mortgage real-estate investment trusts from UBS Group AG, and two leveraged oil notes offered by Citigroup Inc.
Unlike exchange-traded funds, the notes are unsecured debt obligations issued by banks and are backed by the issuer, instead of the assets the products track. They're frequently used as a tool for investing in assets that are hard to access. Many implement derivatives to boost returns or deliver the inverse performance of their index.
But those same perks can also spell trouble for inexperienced investors, as well as headaches for issuers. Regulators have closely eyed the space, although recent rules for leveraged ETFs -- which prevent new triple-leveraged products from using a streamlined approval process -- sidestepped imposing restrictions on ETNs.
The total ETN market in the U.S. currently holds $4.1 billion in assets, down from $7.2 billion at this time last year. New launches have sputtered, with just 10 notes starting trading in 2020, compared with 20 last year.
"It's up to the investors to educate themselves or the issuer to really educate clients and, as they start to realize the pros and cons of those investments, potentially the demand just may not be there," said Jillian DelSignore, principal at Lakefront Advisory.
Still, some issuers are venturing ahead with launches. Earlier this month, Rex Shares LLC released two notes under its MicroSectors brand that are issued by the Bank of Montreal.
The MicroSectors Gold Miners 3x Leveraged ETN (GDXU) and MicroSectors Gold Miners -3x Inverse Leveraged ETN (GDXD) track an index linked to gold miners and cost 0.95% each.
ETNs like those from MicroSectors have become popular with Robinhood traders, after other leveraged products closed earlier this year due to market volatility, according to Bloomberg Intelligence. The downside to new U.S. Securities and Exchange Commission restrictions on triple-leveraged funds is that more investors might seek out ETNs.
"While this would be a boon for firms such as MicroSectors, it would saddle traders with sizable credit risk," Eric Balchunas, ETF analyst for BI, wrote in the report.
For those investors seeking unique exposures, the ETF landscape now offers more kinds of products than ever before, often more straightforward and less risky than ETNs.
DelSignore points to defined-outcome ETFs, which shield holders against a certain percentage of declines in exchange for a cap on gains. They've skyrocketed in popularity this year, attracting billions.
"With exchange-traded notes, there comes an embedded credit risk, and so with some of the innovation in the ETF industry, I think perhaps investors are just less willing to take that on when they can capture some of these exposures in different vehicles," she said.