These Are the Countries Winning Asia's Explosive Wealth Race
Rich Chinese Hot on Heels of Japan's $7.7 Trillion Wealth Pool
(Bloomberg) -- Japan's rich have the largest accumulation of wealth in the Asia-Pacific region, at $7.7 trillion, but the legions of Chinese millionaires are rushing to catch up.
The pool of wealth held by China's high-net-worth individuals grew by more than 144 percent between 2010 and 2017, to reach $6.5 trillion, according to the latest Asia-Pacific Wealth Report from consultants Capgemini. The equivalent rate of growth in Japan over the same period was about 87 percent.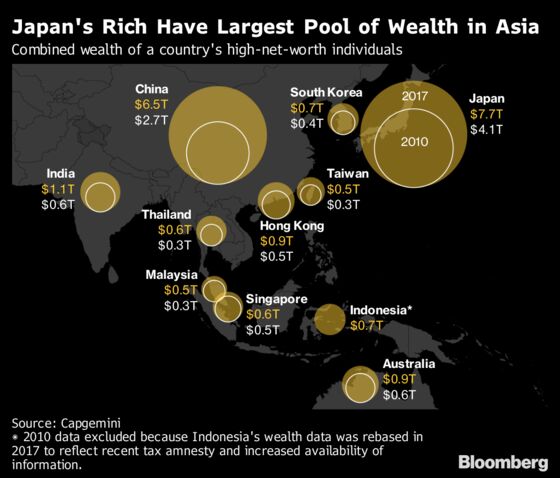 More recently, India's millionaires have been picking up the pace. Wealth held by Indian high-net-worth individuals rose close to 22 percent in 2017 compared with the previous year, the fastest growth in the region over that period, Capgemini said Wednesday.
Other important Asian wealth markets also saw rapid growth last year.
Indonesia showed a massive increase in total wealth held by HNWIs, to $661 billion from $184 billion in 2016, but Capgemini attributed the jump to its rebasing of the 2017 data to reflect the impact of country's 2016-17 tax amnesty and better availability of information.
South Korea's wealthy saw their fortunes grow by a combined 18 percent, the second-highest growth in the region.
Hong Kong had the third-highest growth, at 16.3 percent, mainly thanks to a booming real estate market.
Singapore came in sixth position, below Thailand and Taiwan, with 13 percent growth in HNWI assets.
And the rapid upward trajectory is expected to continue. After doubling between 2010 and 2017 to hit $21.6 trillion, the total pool of wealth held by HWNIs in Asia is expected to nearly double again to $42 trillion by 2025, Capgemini said.
Last year, wealth in Asia Pacific contributed 41.4 percent of all new HNWI wealth globally, the consultancy said. It defines HNWIs as those with investable assets of more than $1 million.
Despite challenges such as the trade war with the U.S., China's wealth generation continued this year, according to William Sullivan, Capgemini's global head of market intelligence. "It's an exciting time for Asia," he added.
--With assistance from Chloe Whiteaker.
To contact the reporter on this story: Venus Feng in Hong Kong at vfeng7@bloomberg.net
To contact the editors responsible for this story: Marcus Wright at mwright115@bloomberg.net, Katrina Nicholas
Get Your
Daily Newsletter
Get market moving news, top news & compelling perspectives
---