Rich Americans Plow Fortunes Into European Soccer Bargains
Rich Americans Plow Their Fortunes Into European Soccer Bargains
(Bloomberg) -- Wealthy Americans are placing their bets on European soccer.
Kyle Krause, whose family fortune was built on the Kum & Go convenience store chain in the midwestern U.S., agreed Friday to acquire control of Italy's Parma. The move came just weeks after billionaire Dan Friedkin, owner of a network of Toyota dealerships, bought rival team Roma in a 591 million-euro ($693 million) deal.
The last 18 months have also seen American takeovers of Italy's ACF Fiorentina and France's Toulouse FC. Driving this flurry of deals is a belief that European soccer offers better value than U.S. sports, according to Pacific Media Group co-founder Paul Conway, whose firm owns teams on the continent.
"Investing in American sports is very expensive and at high valuations," Conway said, noting that professional baseball and basketball teams in the U.S. fetch at least $1 billion.
Another U.S. investor attracted by the European game is Joseph DaGrosa, who's in talks to purchase English Premier League team Southampton, according to a person with knowledge of the matter. The team's owner, Chinese businessman Gao Jisheng, is seeking about 200 million pounds ($256 million), said this person, asking not to be identified discussing confidential information.
Gao's investment vehicle, Lander Holdings Ltd., didn't respond to an email and phone calls seeking comment. A representative for DaGrosa said he is looking at various teams across different leagues, declining to comment on any specific targets.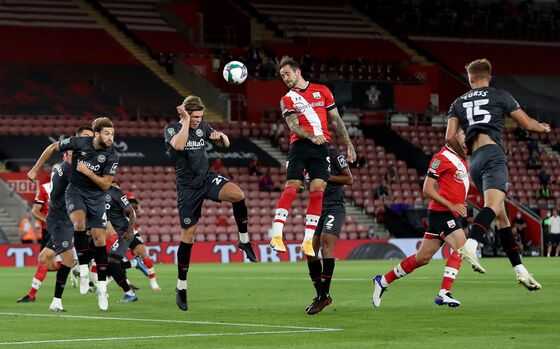 To be sure, American owners haven't always had a smooth ride in Europe. Randy Lerner and Ellis Short had costly experiences at Aston Villa and Sunderland, respectively, before selling out. Still, Americans now hold major stakes in about one-fifth of the 60 teams playing across the top soccer leagues in the U.K., Italy and France, according to data from KPMG Football Benchmark.
Their presence is made conspicuous by the retreat of Chinese investors, who in recent years bought teams including Wolverhampton Wanderers and West Bromwich Albion.
"Chinese investment effectively dried up after its government proposed a more inwardly focused sports investment strategy," said Michael Broughton, an adviser at Acceleration Equity, a fund investing in sports teams. "The vacuum has been principally filled by U.S. investors who see value in European football."
DaGrosa wants to emulate the model of Abu Dhabi's City Football Group Ltd., which owns stakes in 10 teams including Manchester City and achieved a valuation of nearly $5 billion following an investment by U.S. private equity firm Silver Lake Partners last year.
"There's nothing better" than the English Premier League, DaGrosa said in a phone interview earlier this year. "We want to create a football platform that can go public and attract institutional investors and get a multibillion valuation."
Meanwhile, U.S. buyout firms including Advent International and Bain Capital are competing to invest in Italy's top league. Bull Horn Holdings Corp., a new blank-check company listing in New York, plans to seek acquisitions in the sports and media industries and has highlighted the relative value offered by European teams.
"This activity is linked to the fact that many large football clubs are becoming media-entertainment companies with global exposure, attracting consumers from all over the world," Andrea Sartori, KPMG's global head of sports, said by phone.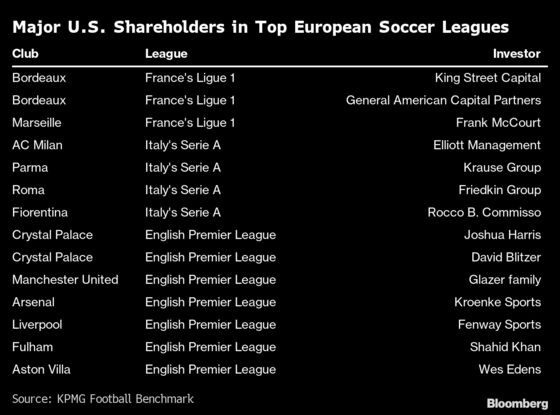 The coronavirus pandemic has weighed on sports teams, which are losing revenue from empty stadiums and reduced broadcast payments. That hasn't deterred the new crop of American investors, and may have even encouraged some deals by offering lower valuations.
"We made this acquisition knowing that the pandemic was ongoing," Krause, the new owner of Parma, said by email. "We can figure out how we can be as successful as possible in spite of it, and plan for the long-term future when we are beyond it."
RedBird Capital Partners, started by former Goldman Sachs Group Inc. partner Gerry Cardinale, bought a majority stake in French second-division team Toulouse in July. That's after games were suspended in March due to Covid-19.
"If you believe in sport and care about it, this will be just a moment in time," said Alec Scheiner, a partner at the $4 billion U.S. investment firm. "I have no doubt that, in time, sport will return to exactly where it was."