Renault Reveals Electric Alpine SUV in Bid for Sporty Revival
Renault to Build Electric SUV in France as Part of Alpine Reboot
(Bloomberg) -- Renault SA plans to make a new electric sport utility vehicle under its storied Alpine sports-car brand as Chief Executive Officer Luca de Meo seeks to spruce up the carmaker's lineup.
The carmaker will start producing the Alpine GT X-Over in 2025, it said Friday at its Dieppe plant in northern France. Finance Minister Bruno Le Maire and Alpine's Formula One race driver Esteban Ocon attended the unveiling.
The SUV is part of a trio of planned Alpine models -- with the other two being a compact vehicle and a new version of the A110 sports car -- that Renault wants to introduce by 2026.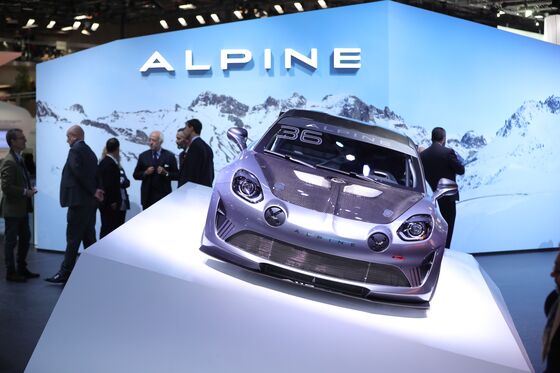 Rebooting Alpine, which over the past decades clinched numerous racing titles including a 1978 win at Le Mans, is part of de Meo's plan to turn around the carmaker, add allure to its brand and accelerate a transformation to electrification.
While sales of the remodeled Alpine A110 remain just a fraction of Renault's output, the expectation is that the more mainstream SUV will help secure the future of the Dieppe site set up in 1969.
Renault and rival Stellantis NV, which makes Peugeot and Citroen vehicles, have come under intense pressure from the government to maintain production in France.
"Stellantis and Renault are keeping their word," Le Maire said during the visit, calling on manufacturers to invest in existing factories and open new ones to bolster employment.
Alpine sales rose 74% last year to 2,659 cars, compared with Renault's total shipments of nearly 2.7 million vehicles.