Rapid-Delivery Startup Zapp Raises $200 Million for Supply Chain
(Bloomberg) -- U.K. rapid-delivery startup Zapp has raised $200 million in new funding to build out a supply chain that delivers items to consumers in minutes, giving the company fuel to continue expanding in a competitive and consolidating market.
Zapp was backed in the round by lead investors Lightspeed Venture Partners, 468 Capital and BroadLight Capital, with Atomico, Burda and Vorwerk Ventures joining as well, the company said in a statement Friday. Formula One star Lewis Hamilton also came aboard as an investor.
Launched in 2020, Zapp is among a spate of startups seeking to deliver convenience goods and groceries in around 15 minutes that saw a surge of usage during the pandemic. The company is focused on "convenience mega-cities" such as London and Amsterdam, with the new funding taking the business's total capital raised to $300 million since being founded.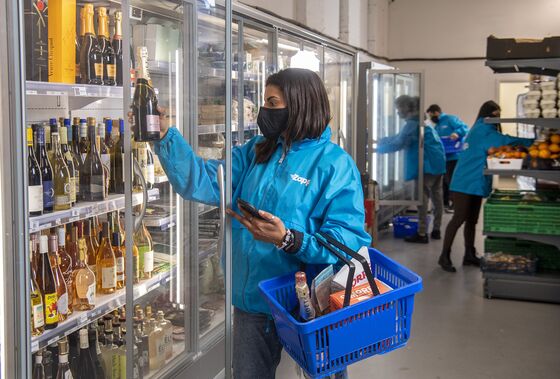 JPMorgan Chase & Co. was Zapp's financial adviser on the transaction. 
The new funds will be used to improve Zapp's technology and customer service following the opening last year of a larger distribution center in London, which makes it easier to restock its smaller microfulfillment centers in the city. Investment will go both toward existing markets and developing new ones, Chief Executive Officer Navid Hadzaad said in an interview. 
Hadzaad also said that the company has maintained growth even as the U.K. emerges from its latest pandemic restrictions. "We actually have continued to see increasing and improving customer behavior around all relevant metrics, from frequency to spend, throughout the year. We're excited for London and the world continuing to open up," he said. 
With supply chains suffering from stock shortages and delayed shipping in recent months, co-founder Joe Falter said that the company's goal of building out its own supply lines would help it be more efficient and reliable in maintaining inventory for customers. 
"In order for this to be as successful as we know it can be, we need to build a very sophisticated supply chain," he said. "We are focused on doing whatever it takes to deliver quickly and accurately the products that people really want."
Competitors to Zapp include companies like Turkey's Getir, Germany's Gorillas Technologies GmbH and the U.S.'s Gopuff. Some smaller firms have begun to get bought by larger competitors as investors become more hesitant to fund money-losing startups.
However, Zapp's Hadzaad said the company has always taken a disciplined approach to its expansion. "We have a very long-term strategy to grow the supply chain and to grow the business -- and it's paid off, despite even adjusted sentiment," he said.