Raiffeisen and OTP Lead Balkan M&A Push as Prospects Brighten
(Bloomberg) -- Europe's southeast corner is set for another wave of bank consolidation in 2022, spurred by fast expanding Balkan economies and the lure of membership in the world's biggest trading bloc. 
With economic growth set to top 7% in some Balkan countries, suitors including Austria's Raiffeisen Bank International and Hungary's OTP Bank Nyrt. are leading the merger drive in markets that could join the European Union within a decade. 
Across the sometimes turbulent Balkans, more than 20 deals have been announced since 2019 as lenders seek to boost market share to gain cost advantages to sustain profitability, especially as the pandemic squeezes margins.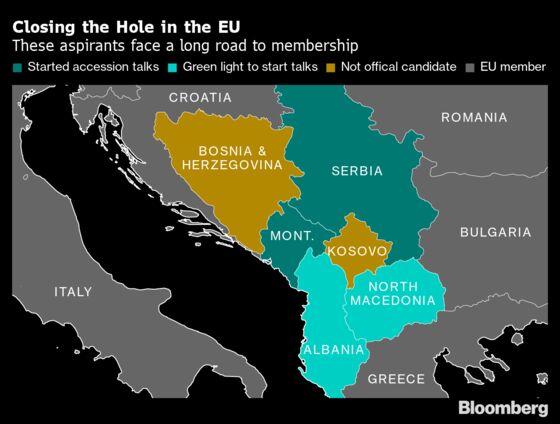 "We want to be part of this consolidation we see accelerating," Hannes Cizek, head of strategy & innovation at Raiffeisen, said in an interview. "We like the market, we see the momentum and we see the prospects" in Serbia, where the Austrian bank just purchased Credit Agricole SA's unit to create the country's third-largest lender.
Bloomberg Intelligence analyst Tomasz Noetzel said in a report on Monday that M&A was quickening in the region as "EU banks focus on backing winners, ensuring scale and exiting sub-scale businesses."
The deals coincide with the EU's decision in December to broaden accession talks with Serbia, the largest of the six Balkan countries aspiring to join the bloc, reviving a process that had shown little progress for years. While still far from certain, the prospects of membership are bolstering the Balkan investment case and banks want to be among the early movers.
Bigger deals announced since mid-year also include OTP buying NKBM to create the largest bank in EU member Slovenia and its purchase of Alpha Bank SA's Albanian unit. Serbia's AiK Banka AD agreed to buy four Sberbank of Russia PJSC units across countries that were once Yugoslavia.
OTP said in an emailed reply to Bloomberg questions that it's "pursuing acquisition negotiations in several countries" in the Balkans, including some markets where it already has a presence. The Hungarian lender is drawn by the region's positive economic outlook, lower penetration and higher yield environment, it said.
The European Central Bank, the continent's leading regulator, gave a nod to tie-ups in January, when it released guidelines showing it won't penalize "credible integration plans" as more consolidation may help resolve long-standing issues and allow lenders to compete better against larger global peers.
The lure of the Serbian market has been amplified by the fact that it cleaned up a non-performing loans issue before Covid, which again weakened credit quality. For "fragmented markets with very small margins, the pandemic meant a significant decline in resilience, especially for smaller banks," the Association of Banks in Serbia said in an email to Bloomberg.
Serbia has recovered strongly, however, with household consumption and investments driving 7.3% economic expansion this year, Erste Group Research said this month, raising its forecast. EU member Croatia, along with Albania, are on course for growth of at least 8% in 2021. 
Merger fever has also spread to local lenders, such as Slovenia's Nova Ljubljanska Banka, which became the fourth largest player in Serbia after buying state-run Komercijalna Banka in 2020. NLB's Chief Executive Officer Blaz Brodnjak expects Balkan bank consolidation to "accelerate greatly." 
His bank is looking to enter Albania and regain a foothold in Croatia, which -- in a reminder of the region's combative recent history -- would require the Slovene and Croat governments to resolve a decades-old dispute over the liabilities of NLB's predecessor, Ljubljanska Banka. 
If successful, NLB would be the first bank with a presence in all the nations that were once Yugoslavia, becoming a "regional champion" and "the natural choice for handling payment and commercial transactions, trade and commodity flows in the region," Brodnjak said by phone.