Qatar's Third-Biggest Bank Commits to Turkey for 'Long Haul'
(Bloomberg) -- Commercial Bank of Qatar is committed to its business in Turkey for "the long haul" as it looks to build its operations there, according to the top executive at the lender.
"We are focusing on building it and improving the return on equity," Group Chief Executive Officer Joseph Abraham said in a Bloomberg TV interview Thursday. CBQ has spent the last few years turning the business around, with its non-performing loans better than the market's average, he said.
CBQ is currently Qatar's third-largest lender by assets, though a combination between Masraf Al Rayan QSC and Al Khalij Commercial Bank PQSC could knock it down a notch. It took full ownership of Alternatifbank AS in 2016 and has had to undertake several rounds of capital increases since then to support the Turkish unit's growth plans.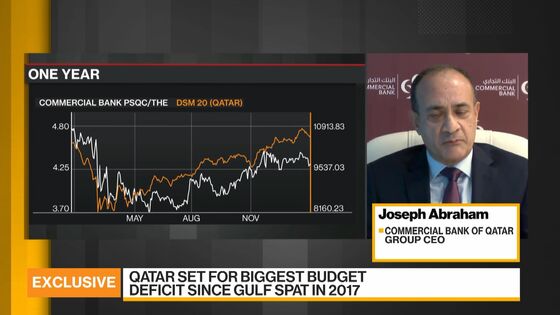 Turkish banks are at risk of an increase in NPLs after being pressured into extending more credit to keep the economy afloat through a currency crisis and lockdown restrictions aimed at slowing the spread of Covid-19. The damage from the pandemic is forcing banks to increase provisioning as they also comply with a regulatory cap on fees and commissions.
The outlook for the industry is shifting, however, following a dramatic change in policy making last November, after the central bank governor was fired by President Recep Tayyip Erdogan, and his son-in-law resigned as finance minister.
"Turkey had some policy volatility last year," Abraham said. "Now we've seen more reversion to an orthodox policy, which is welcomed by the market and it will also be positive for the banking sector." Alternatifbank is Turkey's 18th-largest bank, with 49 branches mostly in big cities. Its net income fell 28% in the first nine months of 2020 from a year ago.
Ties between Turkey and Qatar have deepened since a coup attempt against President Recep Tayyip Erdogan in 2016, when he received backing from the Gulf nation's rulers.
Turkey returned the favor a year later by siding with Qatar when it came under an economic boycott from a group of countries led by Saudi Arabia and the United Arab Emirates. Turkey has also stationed troops and steadily built up a base in Qatar since 2017.
With the diplomatic dispute in the Gulf ending this month, Fitch Ratings predicts Qatari banks could benefit from greater inflows. Meanwhile, challenges posed by lower oil prices and economic hardship caused by the coronavirus pandemic may also speed an ongoing wave of bank consolidation across the region.
CBQ fared better than estimated by analysts last year even as it reported that its net income dropped 36%. Net provisions for loans and advances rose 40.7% to 836.4 million riyals ($229 million).
Provisions are "cautionary buffers, and specific provisions will only emerge in the second half of 2021 once forbearance and support measures are lifted," Abraham said. He expects a stronger growth outlook for the bank in the second half of 2021 with the vaccine rollout.
CBQ shares lost 0.4% as of 11:16 a.m. in Doha, outperforming Qatar's benchmark QE Index and trimming a decline of as much as 4.2% earlier. The volume of the lender's stock bought and sold was 73% higher than its 30-day average. CBQ shares dropped less than peers including Masraf Al Rayan and Qatar Islamic Bank.
Operating income 4.24 billion riyals, estimate 2.53 billion riyals (Bloomberg Consensus) (2 estimates)
Dividend per share 0.10 riyal
Cost-to-income ratio 25.9%

vs

28.3%
Capital-adequacy ratio 17.8%

vs

16.4%