Putin Orders More Gas for Europe Next Month, Sending Down Price
(Bloomberg) -- President Vladimir Putin ordered Gazprom PJSC to start refilling its European gas-storage facilities next month, sending prices lower as long-awaited additional Russian supplies could soon be on the way.
The Russian gas giant was told to boost inventories at its facilities in Germany and Austria starting Nov. 8, when domestic storage sites will be full, Putin told Gazprom Chief Executive Officer Alexey Miller Wednesday. The move will "create a more favorable situation on the European energy market," the Russian president said at a meeting broadcast on state television
Gazprom has so far pumped very small amounts of gas into its European storage facilities and the order could help boost supplies in the continent. The increase doesn't necessarily mean Russia is relenting to pressure to bail Europe out of an energy crisis. Reserves will be stored at Gazprom's own facilities and the move comes as Russian production is set to increase anyway.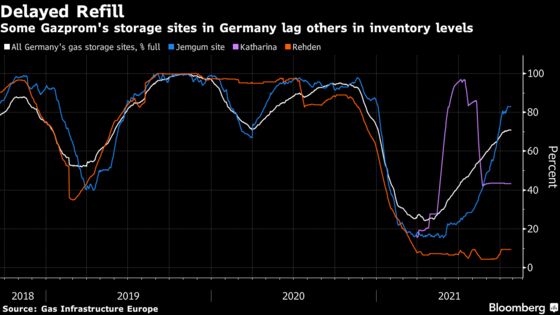 Europe started the heating season with the lowest inventories in more than a decade as Russia kept supplies capped, while cargoes of liquefied natural gas were redirected to Asia to meet soaring demand there. While Russia has made it clear that it could send more gas if it gets approval for its controversial Nord Stream 2 pipeline, Europe's top supplier also faces a crunch of its own.
Russia has to pump more gas than usual into its own storage sites after a bitter winter left inventories depleted. Miller said the Russian re-injection campaign would be a week longer than the original Nov. 1 conclusion. 
Russia's focus on rebuilding domestic gas inventories, combined with low storage rates at Gazprom sites in the European Union, has become a major concern for the continent's market, which is struggling with an energy squeeze and sky-high prices. 
Benchmark European gas prices broke records for several days this year and fell as much as 4.4% after Putin's intervention on Wednesday. This isn't the first time the Russian president sends prices down.
Gas storage sites in Germany, where Gazprom has several facilities, are about 71% full now, according to data from Gas Infrastructure Europe. The situation with facilities owned and co-owned by the Russian exporter varies -- from 83% at Jemgum to 9.5% at Rehden.
Gazprom withdrew some volumes from its EU inventory in August -- when companies usually build reserves -- to compensate for reduced shipments after a fire at a Siberian processing plant.
While Putin has repeatedly promised more supplies to Europe, Gazprom has yet to book pipeline capacity to boost deliveries to the continent next month. Gazprom has said it's meeting all contractual obligations, while some EU officials have accused the company of withholding fuel to accelerate approval of its controversial Nord Stream 2 pipeline.