Power Plants Get More Expensive But Renewables Still Cheapest
Power Plants Get More Expensive But Renewables Still Cheapest
(Bloomberg) -- Rising costs for materials and shipping made power plants more expensive in the second half of 2021, and while renewables saw the largest gains, wind and solar remain the cheapest sources of electricity in most of the world. 
Power from new fixed-axis solar farms climbed 11.5% from the first half to $43 a megawatt-hour, according to a report Tuesday from BloombergNEF. Onshore wind gained 4.3%, while natural gas climbed 4.4% and coal inched upward by 0.5% to $64.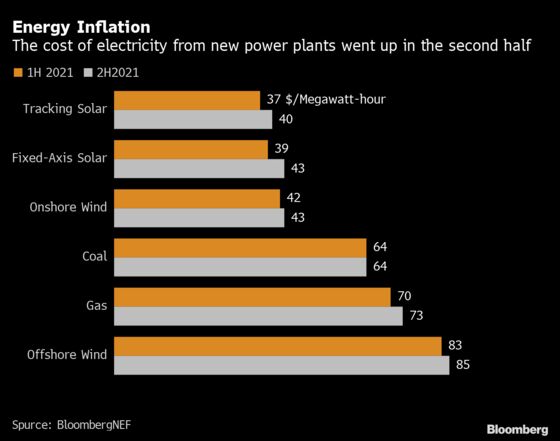 The increases reflect the rising prices of commodities used to produce wind turbines and solar panels, including steel and polysilicon, as well as more expensive coal and gas. That's been exacerbated by kinks in the global supply chain that have increased shipping expenses. Despite the increases in the levelized cost of electricity, solar or onshore wind remain the cheapest source of power in regions representing about 91% of the world's power generation and two-thirds of the population.
"LCOEs for solar and wind throughout the world have increased this half," according to the report. "But this has not been enough to shift the competitiveness of new-build renewables versus new coal and gas power."
The report looked at the LCOE -- the cost to generate power from a new plant over its expected life, including construction, maintenance, operation, financing, fuel and other expenses.