Pocketing 1,000% Markup, Venezuelans Smuggle Out Precious Food
(Bloomberg) -- A week after the Nicolas Maduro regime threw up barricades along the border, there are still no signs that truckloads of humanitarian aid will be allowed into Venezuela from their way station in eastern Colombia. That doesn't mean food isn't being shipped over -- but it has been going in the other direction.
Market shelves in the scruffy Colombian town of Puerto Santander are loaded with Venezuelan maize flour, rice, cheese spread and more, heavily subsidized consumer goods smuggled by government officials and ordinary citizens alike and sold at big mark-ups. Gasoline is ferried from Venezuela too, as people cash in on the arbitrage opportunities created by extreme price distortions.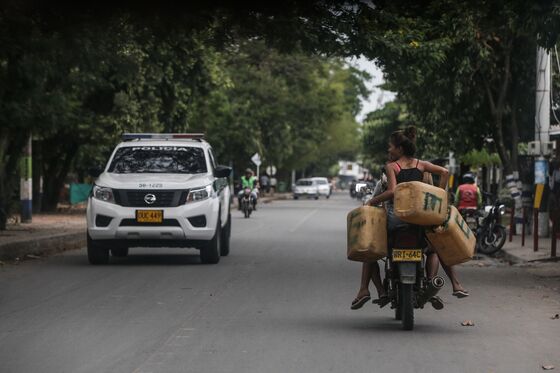 The spectacle of food being spirited out of a country where hunger is becoming epidemic shows in microcosm how Maduro's socialist government has created an economic and humanitarian disaster. While this black-market trade has been going on for years now, it's jarring to witness it at a time when much of the world has thrown its support behind efforts by Maduro's rival, Juan Guaido, to bring emergency supplies into the country.
"It makes you angry to see these products for sale," said Lisbeth Cisneros, 28, a pregnant mother of four who fled the Venezuelan town of San Cristobal three months ago and works as a street vendor on the Colombian side of the border. "The situation is horrible over there."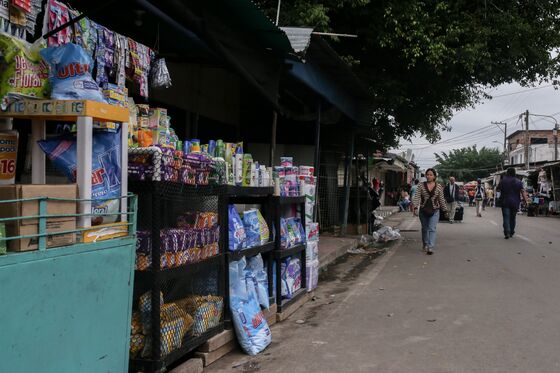 To ameliorate that situation -- and bolster his bid to end Maduro's authoritarian rule -- Guaido has called for street protests to pressure the government to let the food and other goods donated by the U.S. through. As of late Monday, there was no clear plan to break the blockade. Maduro has portrayed the supplies as a pretex for an invasion, or sent to humiliate and undermine him. His security forces are using shipping containers and a tractor trailer to block an unused international bridge near the warehouse in Cucuta where the donations are stockpiled.
The smuggling traffic, meanwhile, keeps moving. The volume of food making its way across has diminished recently as the crisis in Venezuela has deepened, according to vendors in Colombia, but many said they still have plenty to sell, while Venezuelans wait in hours-long lines for what little is available in their stores.
Commerce is brisk at the market stalls in Puerto Santander, where packets of Venezuelan maize flour that are used to make arepas, a staple in both countries, go for 2,500 pesos, or about 80 cents. That's some 30 percent less than what Colombian groceries selling licit products charge. And in Venezuela? The subsidized price for the flour is about 7 cents.
Along a nearby highway, dozens of makeshift gasoline stations openly sell Venezuelan fuel. The going rate: $10.60 for a six-gallon jug, compared to $14 at a local regulated Colombian pump. And there were none of those anywhere in sight on the highway.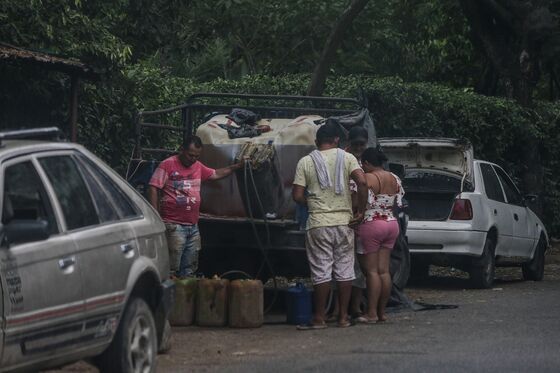 The two governments have in the past worked together to crack down, but no more. "There's no communication now," said Colonel Carlos Giron, head of the customs police in the Colombian province of Norte de Santander, even "with a border as turbulent as this one."
The bootlegged fuel arrives in narrow wooden boats that make the trip across the river to Puerto Santander in full view of both the Venezuelan National Guard and Colombian officials at checkpoints on a bridge that connects the countries there.
One merchant said the armed gangs that control the commerce charge a tax of 4,000 pesos, the equivalent of $1.30, for every container. Since gasoline in Venezuela is virtually free, the biggest costs are bribing officials in that country and paying off the mafia in Colombia. The mark-up on the contraband petrol can dwarf what cocaine traffickers make.
At the moment, gasoline is still plentiful in Venezuela, though the latest U.S. sanctions, imposed last month on the state-owned oil company, could lead to supply disruptions. People are already living with sporadic deliveries of electricity and water.
The country has been wrenched by a savage economic collapse, with inflation running at an annual rate of about 380,000 percent, according to Bloomberg's Cafe Con Leche Index. It is in political turmoil as well, with Maduro, re-elected as president last year in a rigged vote, facing off against Guaido, the National Assembly speaker recognized by dozens of countries as the rightful head of government.
"What Maduro is doing is a silent genocide -- there are many children who are dying," Francisco Sucre, head of the foreign committee of the National Assembly, told reporters on a visit to Rome. "We have made many appeals."
On Monday, the Maduro camp played its latest card in humanitarian-aid standoff. Freddy Bernal, a former police commissioner and Caracas mayor, said at a press conference that Maduro's United Socialist Party planned to open a youth camp on the Venezuelan side of the blocked bridge. Bernal described it: "A camp for peace and against imperialist interference on the border."
--With assistance from Alex Vasquez and John Follain.
To contact the reporters on this story: Oscar Medina in Bogota at omedinacruz@bloomberg.net;Matthew Bristow in Bogota at mbristow5@bloomberg.net
To contact the editors responsible for this story: David Papadopoulos at papadopoulos@bloomberg.net, Ian Fisher, Anne Reifenberg