Chinese Stocks in the U.S. Whipsaw Amid Growing Lockdown Woes
Pinduoduo, Alibaba Lead Chinese ADR Decline Amid Lockdown Woes
(Bloomberg) -- U.S.-listed Chinese stocks whipsawed Monday to end the day higher, as investors weighed the economic ramifications of the country's expanded Covid measures in major cities.
The Nasdaq Golden Dragon Index closed 0.7% higher, after falling as much as 4.1% in early trading session. The rebound tracked gains in U.S. stocks and came after the gauge posted three weeks of losses. Alibaba Group Holding Ltd., down 0.8%, was among the decliners in American depositary receipts, while peer Pinduoduo Inc. and Baidu Inc. reversed early declines. The swings in the group follow a 4.9% slump in China's CSI 300 Index, which closed at its lowest level in two years.
Rising Covid cases in Beijing have stoked fears of a citywide lockdown, with China's capital already putting some residential compounds under restrictive measures. The city also announced mass testing plans, following the footsteps of financial hub Shanghai, which has been under a standstill for almost a month.
"The fact that another major metropolitan city may be heading in a similar direction is obviously bad news," said Adam Montanaro, investment director at Aberdeen Asset Management. "Every part of the economy is getting increasingly stretched and impacted by these lockdowns."
Still, there are reasons to be positive, Montanaro said, noting "China has done much more orthodox monetary policy through Covid and up until recently had done a relatively good job of managing it."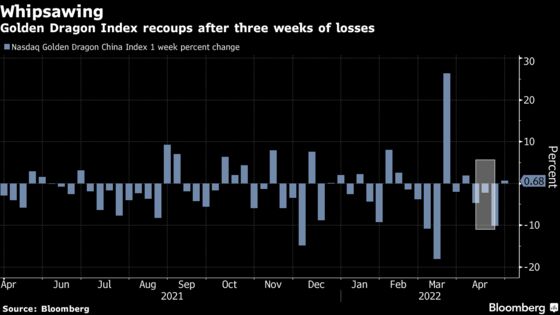 China's central bank cut financial institutions' foreign exchange reserve ratio by one percentage point to 8%in a bid to counter yuan weakness and help manage liquidity. The decision will take effect on May 15.
"This isn't a negative, but until China eases back at least somewhat from its zero-tolerance approach to COVID, sentiment will stay negative toward the country," Vital knowledge founder Adam Crisafulli wrote in a note this morning. 
Concerns about the economic costs of prolonged Covid restrictions, together with lingering delisting threats and muted economic support, have put U.S.-listed Chinese shares under pressure in recent sessions. The Nasdaq Golden Dragon China Index has dropped over 13% since Beijing vowed to stabilize financial markets on March 16.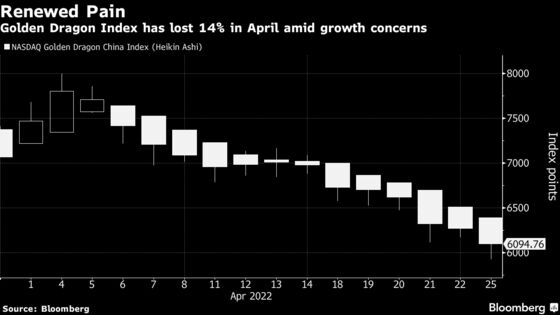 "More than a month after China policy makers announced easing measures were incoming, investors have been left underwhelmed as lending rates were left unchanged in April," Bloomberg Intelligence equity strategist Marvin Chen wrote in a note. The window of opportunity for more aggressive easing is getting smaller as the yuan continues to weaken, Chen said.
Elsewhere, China has asked 18 major online platforms, including some from Weibo Corp., Baidu Inc. and Zhihu Inc. to improve their systems to deal with violence on the internet.