Peugeot Maker PSA Sees Chaotic Rebound After Sales Drop 16%
(Bloomberg) -- French automaker PSA Group posted a 16% slump in first-quarter sales and forecast the European market will shrink by a quarter this year as the coronavirus pandemic slams the car industry.
The company has secured liquidity and cut costs, Chief Financial Officer Philippe de Rovira said in the statement Tuesday, adding that it is preparing for a rebound in a chaotic economic environment. PSA left its target for profitability unchanged, while saying the outlook is difficult to assess.
The shares declined 1.8% to 11.45 euros in early Paris trading. The stock has tumbled 46% this year.
The maker of Peugeot, Citroen, Vauxhall and Opel vehicles is one of the most vulnerable to a downturn in Europe, where the health crisis has paralyzed public life in countries such as France, Britain and Italy. Car sales in the region dropped the most on record in March as showrooms closed and production came to a halt.
The French carmaker shut European plants from mid-March and has so far declined to give a date for any reopening, even as Toyota Motor Corp. gradually reboots a factory in northern France. PSA expects the Chinese market to shrink 10% this year, with contractions of 25% in Latin America and 20% in Russia.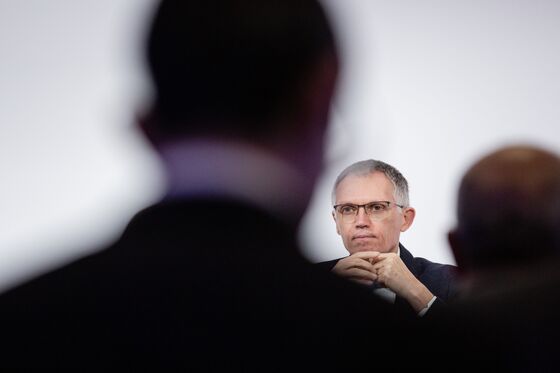 PSA's liquidity and cost reductions are reassuring, even though the company's inventory has built up in the past quarter, Goldman Sachs analysts said in a note. They also pointed to difficulties the industry will face in ramping up over the coming months.
The manufacturer, which plans to merge with Fiat Chrysler Automobiles NV, maintained a target for an average automotive adjusted operating margin of more than 4.5% for the 2019-2021 period.
The pandemic is a blow to Chief Executive Officer Carlos Tavares, who before the crisis struck had boasted that plants were running at full speed to satisfy robust order books. The profit margin widened to 8.5% last year, cementing the company's best-in-class status. Since arriving in 2014, Tavares has turned around the company by removing overhead and adding scale.
Sales fall 15.6% to 15.2 billion euros
PSA says outlook extremely difficult to assess
Global sales drop 29% to 627,024 vehicles