Pelosi, McConnell Fan Stimulus Hopes With Clock Running Out
House Speaker Nancy Pelosi and Senate Majority Leader Mitch McConnell took a stab at breaking the deadlock over a new stimulus.
(Bloomberg) -- House Speaker Nancy Pelosi and Senate Majority Leader Mitch McConnell each took a stab at breaking the deadlock over a new stimulus, but it wasn't clear that either side budged enough to get a deal in the short time Congress has left to act.
Pelosi and Senate Democratic leader Chuck Schumer -- who've previously stuck with a $2.4 trillion coronavirus relief package -- presented a new proposal to McConnell and Treasury Secretary Steven Mnuchin, but refused to publicly release details. Schumer called it "a private proposal to help move the ball forward."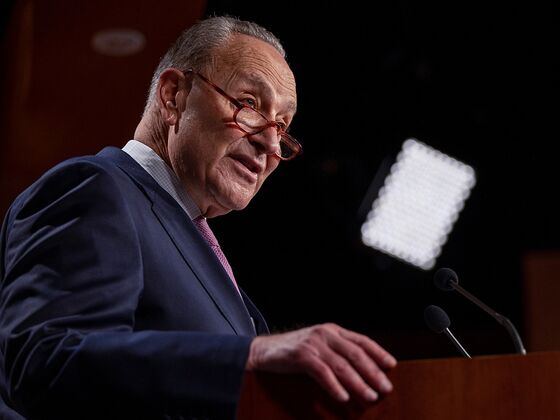 McConnell, in response, began circulating his own plan to fellow Republicans, saying it had the blessing of President Donald Trump. While he labeled it a new proposal, an outline distributed to GOP senators showed it was largely a revision of an earlier $500 billion plan that had been rejected by Democrats as inadequate.
The emergence of the proposals Tuesday reflected the rising concerns that the economy needs another boost amid evidence that surging Covid-19 cases are undermining the recovery as past fiscal support runs out. President-elect Joe Biden on Tuesday called on Congress to pass a "robust" aid bill while unveiling his economic team, without offering specifics of how big it should be or what measures it ought to contain.
Mnuchin told reporters Wednesday that he had spoken "briefly" with Pelosi Tuesday about her new pitch, but declined to offer public comment on it. He said that he didn't plan to speak with her again Wednesday.
Asked what Trump will sign, Mnuchin said Trump favors the approximately $500 billion McConnell plan. Prior to losing the election, Trump said he wanted a more than $2 trillion in stimulus, although congressional Republicans never endorsed that amount.
The current Republican narrative is that the economic recovery is strong enough to need only smaller-scale assistance. White House economic adviser Larry Kudlow held to that Wednesday, saying on Fox Business that business investment is doing well and "consumer spending is very strong -- consumers have huge hoards of cash from a high saving rate."
Some of that saving came from previous government support, which is now running out. With employment levels still down by some 10 million compared with the pre-Covid-19 high, economists are warning the recovery is at risk of faltering.
Federal Reserve Chair Jerome Powell reiterated to lawmakers at a hearing on Tuesday that "the risk of overdoing it is less than the risk of underdoing it" on fiscal stimulus. He pointed out that the pace of improvement in the economy has weakened in recent months.
At the same hearing, Mnuchin said he was urging Congress to "pass something quickly." Powell and Mnuchin are also to appear before a House Financial Services Committee hearing on Wednesday.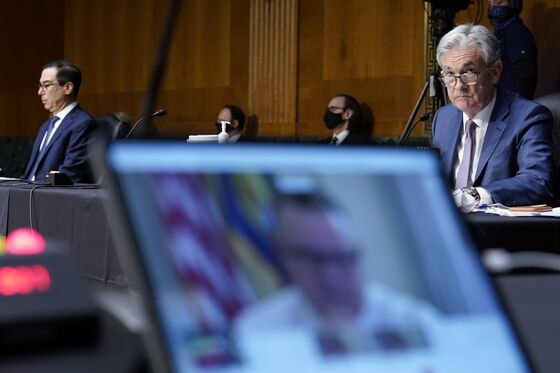 Many business groups are pressing Congress to compromise.
"Large parts of the business community are running out of patience," said Kip Eideberg, senior vice president for government and industry relations for the Association of Equipment Manufacturers, which represents more than 1,000 U.S. Companies. "It is beyond surreal that they are still bickering over politics when they should be focused on policies. That's been our message to both parties in the House and the Senate."
But both sides in Washington appeared to be holding to some of their earlier positions that have left negotiations at a standstill. They again accused each other of putting partisanship ahead of compromise.
Both McConnell and the White House brushed aside a proposal for a $908 billion compromise package offered by a bipartisan group of lawmakers from the House and Senate.
Democratic leaders spoke more positively about the bipartisan plan, but fell short of embracing it themselves.
The proposal from a group that included Republican Senator Mitt Romney of Utah and Senator Joe Manchin, a West Virginia Democrat -- who will be pivotal votes on any plans from the Biden administration next year -- included some state and local aid Republicans had opposed and some pandemic liability protections Democrats have resisted.
The outline of McConnell's plan didn't provide an overall cost, though many of the provisions track those he's offered before.
It includes $333 billion in spending on assorted business subsidies including a revised version of the Paycheck Protection Program, as well as funding for schools, vaccines and agriculture and a restoration of 100% expensing of business meals for tax purposes. It does not include a major tranche of state and local aid outside of schools demanded by Democrats and continues to include legal liability protections Democrats have considered to be a poison pill.
It also features a one-month extension of pandemic unemployment relief followed by a two-month phase-out -- considerably stingier than Democrats have been demanding.
McConnell characterized it as a stopgap measure and gave tacit recognition that he expects Biden to assume the presidency.
"After the first of the year, there is likely to be a discussion about some additional package of some size next year, depending upon what the new administration wants to pursue," said McConnell, who for weeks hasn't acknowledged Trump's loss.
At a news conference Tuesday in Delaware, Biden said that any package passed in a lame duck session would likely be "at best just a start."
He proposed trillions of dollars of new federal spending during his campaign, and advisers have suggested that some of those plans could be included in a post-inauguration stimulus bill.
His Build Back Better proposal included $2 trillion on clean energy and infrastructure, $775 billion to support the "caring economy" including child and elder care, and a $700 billion "Buy American" initiative aimed at using federal procurement and research dollars to boost domestic manufacturing.
Biden has also said he hopes to see additional federal aid for small businesses.
Over the next 10 days Congress also has to deal with passing a $1.4 trillion annual spending bill to fund government operations. The U.S. government has been working under a stopgap measure since the fiscal year began on Oct. 1. That expires Dec. 11, and missing the deadline would trigger a partial government shutdown.
The must-pass measure has emerged as the likely vehicle for any pandemic-related relief.
Senator John Thune of South Dakota, the chamber's No. 2 Republican, said he thought some relief, such as aid for small businesses or money for schools and vaccine distribution, could be attached to the annual spending bill.
Some lawmakers were skeptical there was enough time before the Congress breaks for the holidays.
"The whole idea of not being willing to negotiate until you're down to the last week of negotiating time usually doesn't produce a very good result," said Missouri Republican Senator Roy Blunt, also a member of McConnell's leadership team.