Ominous UN Climate Report May Be Good News for One Industry
Ominous UN Climate Report Could Be Good News for One Industry
(Bloomberg) -- A United Nations call to arms urging countries to spend trillions of dollars every year to avoid irreversible damage from climate change may be just the tonic for one moribund industry.
Carbon capture and storage, which siphons atmosphere-damaging pollutants from industrial smokestacks and sticks them underground permanently, has long been touted as the answer to the world's climate woes. So far, exorbitant costs and a lack of government support have limited the industry's expansion.
Yet CCS, as it is know for short, will be needed for "all pathways" to limit global warming to 1.5 degrees Celsius (2.7 Fahrenheit), a panel of scientists convened by the United Nations said in a report on Monday. Their conclusion is welcome news for big energy companies led by Royal Dutch Shell Plc, Statoil ASA and Total SA, which are studying how to deploy CCS to safeguard the emissions they produce from oil and gas reservoirs.
"The report provides important scientific information but deployment and financing of future CCS projects also requires strong support, political will and ambition," said John Scowcroft, executive adviser for Europe for the Global CCS Institute. "Long-term policy stability and finance frameworks are also needed to drive investment."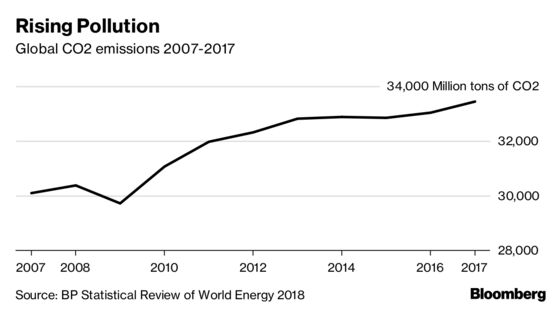 Shell said earlier this year that carbon capture and storage must exceed global emissions and that there needs to be 10,000 active projects to attain that goal. BP Plc Chief Executive Officer Bob Dudley said in April that CCS needs government subsidies to get going.
That's a huge leap from where the industry is today. There are currently 18 large-scale CCS facilities operating worldwide, with five more under construction and a further four in advanced development, according to the Global CCS Institute, a body that promotes the technology.
Yet CCS is a crucial piece of all equations for containing emissions, partly because the world remains so dependent on fossil fuels and will probably do so for decades to come. The International Energy Agency estimates that CCS plants need to account for 14 percent of all emissions cuts by 2060 to keep global warming to just 2 degrees Celsius.
The report this week from the Intergovernmental Panel on Climate Change looked at how to reach a more ambitious target of 1.5 degrees and recommended that the world reduce coal's share of the power generation market to less than 2 percent by 2050. Under that scenario, the fuel could only feed power plants if its emissions were sequestered by CCS plants.
There needs to be a 10-fold increase in carbon capture by 2025 to put it on the right path to restrict global warming, which translates to a $60 billion investment, the IEA said.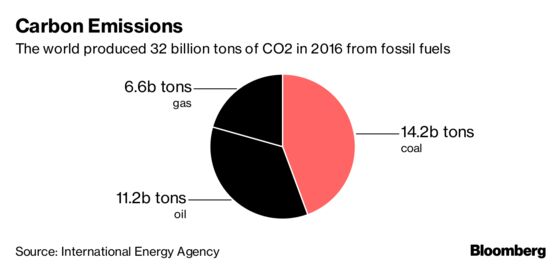 A few plants are moving ahead. In August China established the world's 18th large-scale CCS facility at the China National Petroleum Corp.'s Jilin Oil Field with a storage capacity of 600,000 tons of carbon dioxide a year.
China has two other large projects due to come online in the next two years at Sinopec Qilu Petrochemical Corp.'s refinery and the Yanchang CCS facility in, Shaanxi Province at two coal-to-chemicals plants. Both facilities are slated to capture around 400,000 tons of CO2 each, according to the Global CCS Institute.
Another factor slowing deployment down is the penalty for burning fossil fuels is still to low. While the cost of emitting one ton of carbon dioxide in Europe has more than doubled this year, it's still less than half the 50 euros ($57) a ton needed to stimulate investment in green technologies, according to analysts at the IEA and researcher Carbon Tracker.
"Whilst new CCS projects are slowly coming on-stream every year, we need to scale up the rate of deployment dramatically," said Luke Warren, CEO of the CCS Association. "Projects will go ahead in those countries that have favorable policies and incentive frameworks. In Europe, the U.K., Norway and the Netherlands are all well placed to take the lead on this critical technology."
To contact the reporter on this story: Jeremy Hodges in London at jhodges17@bloomberg.net
To contact the editors responsible for this story: Reed Landberg at landberg@bloomberg.net, Andrew Reierson