Oil Search Urged to Keep Talking After $6 Billion Takeover Snub
Oil Search Rejects Santos Plan for $16 Billion LNG Giant
(Bloomberg) -- Oil Search Ltd. has been urged by investors to pursue takeover talks after rejecting an initial approach from Santos Ltd. to create a A$22 billion ($16 billion) liquefied natural gas export giant.
The Sydney-based producer, with oil and gas assets in Papua New Guinea and a development project in Alaska, described an all-share proposal which valued the company at A$8.8 billion as too low, though remains open to discussions.
"This is only the start, not the end," John Ayoub, portfolio manager at Wilson Asset Management International Pty, which owns shares in both companies, said by phone. "I'd expect at a minimum that dialog is to be ongoing, with a deal to be explored further."
TotalEnergies SE and Exxon Mobil Corp., partners with the target in projects in Papua New Guinea, could be potential alternative suitors, according to Allan Gray Australia Pty., which holds Oil Search and said it was supportive of talks to sell part or all of the company.
Oil Search shares rose 6.3% in Sydney trading Tuesday, the most in almost five months. Adelaide-based Santos declined 5%, to the lowest since Jan. 6.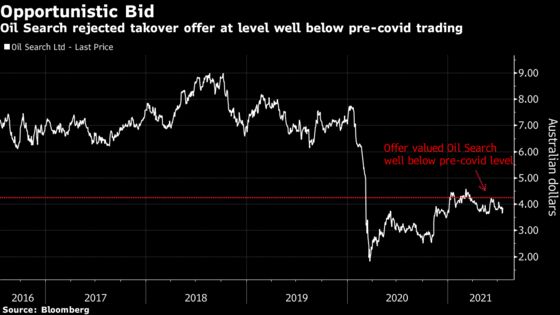 "Santos continues to believe that the merger proposal represents an extremely attractive opportunity," the company said in a statement on Tuesday. A combined entity would rank among the world's top 20 oil and gas producers by market capitalization and have a portfolio of long-life assets, Santos said.
Oil Search, which on Monday announced the abrupt departure of Managing Director Keiran Wulff, has come under pressure from investors to deliver better returns after it plowed cash into its Alaska project.
The target agrees with Santos "that there is strategic logic in a combination of the two companies," and would consider a higher proposal, Oil Search said in a statement.
"A higher bid could come from Santos," said Jamie Hannah, deputy head of investments and capital markets in Sydney at Van Eck Associates Corp., which owns shares in both companies through its exchange-traded funds. "Oil Search is trading at very low levels and Santos can afford to bid more."
Oil Search saw its value plunge in early 2020 as oil slumped on weaker demand as a result of the global coronavirus outbreak and shares remain well below pre-pandemic levels even as fuel prices have recovered.
Both Santos and Oil Search are junior partners in the Exxon-operated PNG LNG project, which produces as much as 8 million tons of LNG a year. Oil Search is also a partner TotalEnergies-led Papua gas project in Papua New Guinea.