Oil Rally Fizzles With OPEC+ Set to Discuss Extending Its Curbs
Civil strife across the U.S. and deteriorating Washington-Beijing relations weighed against signs of OPEC+ extending output cuts.
Oil's record rally sputtered as investors assessed whether OPEC and its allies will extend the supply curbs that helped drive prices higher.
Futures settled slightly lower in New York on Monday as the OPEC+ group that includes Russia prepares to discuss maintaining record output curbs for an extra one to three months. But a proposal to bring forward the meeting by several days to Thursday was still being debated two days after it was first floated.
Without an extension, the existing caps begin to wind down next month. Any changes to the existing deal will hinge on negotiations between Moscow and Riyadh. And as of last week, Russia's position was that it wanted to start easing the cuts next month.
Meanwhile, onshore oil exploration in the U.S. shrank for the 11th consecutive week to a level not seen since before the shale revolution kicked off more than a decade ago. Despite well shut-ins across North America, U.S. imports of Saudi crude have surged, swelling supplies held in storage.
American stockpiles are "probably heading higher at least in the short term as more imports come in," said Peter McNally, an analyst at Third Bridge Group Ltd. "The market is oversupplied to begin with. Everyone is looking for more signs of demand firming."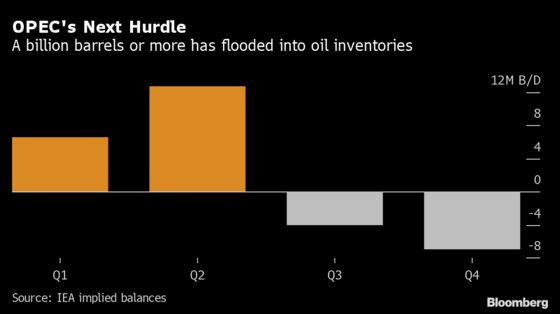 West Texas Intermediate for July delivery settled down 5 cents at $35.44 a barrel on the New York Mercantile Exchange. Brent, the international benchmark, rose 48 cents to $38.32.
An earlier OPEC+ meeting would give the producer group more flexibility to change its current production limits. The group's preference is to take short-term measures on cuts as the situation is volatile, the delegate said. The coalition -- which includes OPEC's 13 members plus another 10 exporters -- has achieved 92% compliance, according to data analytics firm Kpler. Iraq and Nigeria have been laggards in meeting their pledged targets.
View the latest market-moving news and analytics surrounding volatile crude prices.
Meanwhile, the U.S. Oil Fund ETF begins its monthly roll of futures contracts on Monday. The fund plans to sell its July holdings and buy more November and January futures over the next 10 trading sessions.
Other oil-market news
Offshore drilling firm Valaris Plc has missed interest payments on $1.1 billion of bonds that were due on Monday, the company said in a filing.
Traders betting on oil's recovery face a reality check following a collapse in profits from making diesel in Europe and the U.S.
WisdomTree Investments Inc. is looking to protect its biggest financial oil product from any renewed plunge into

negative territory

by implementing a price floor.
Queues of tankers have formed off China's busiest oil ports as the vessels wait to offload crude for refineries that are quickly ramping up production amid a rapid rebound in fuel demand.
Get Your
Daily Newsletter
Get market moving news, top news & compelling perspectives
---