Ocado Gains Alcampo as Client for Robotic Warehouse Services
Ocado's Robot Warehouse Snags Offset E-Commerce Grocery Boom
Ocado Group Plc added Spanish grocery chain Alcampo as a new client for its robotic warehouse business, which is gaining traction abroad as grocery e-commerce booms.
The new contract will add to profit in coming fiscal years as these deals require an upfront investment, Ocado said Tuesday. The company also maintained its full-year earnings forecast as strong sales in its retail joint venture with Marks & Spencer Group Plc offset some setbacks at the technology business. The stock rose as much as 4%.
Alcampo adds to a client roster that already includes U.S. giant Kroger Co. and Casino Guichard-Perrachon SA of France. It may also serve as a foot in the door to gain business at other chains owned by Auchan, the Spanish chain's parent company.
The growth at Ocado's retail arm shows that while the average online purchase is getting smaller since lockdown restrictions eased, more clients are using the service. The buoyant U.K. grocery market has attracted private equity companies to bid for Wm Morrison Supermarkets Plc.
Still, Ocado has yet to generate any profit at the net income level. The company's pretax loss narrowed to 23.6 million pounds from 40.6 million in the year-earlier period.
"Everything the group does has the prospect of generating value in the long-term," wrote Clive Black, an analyst at Shore Capital. "The group should remain thankful to its core investors, who, to their credit, have the patience of saints."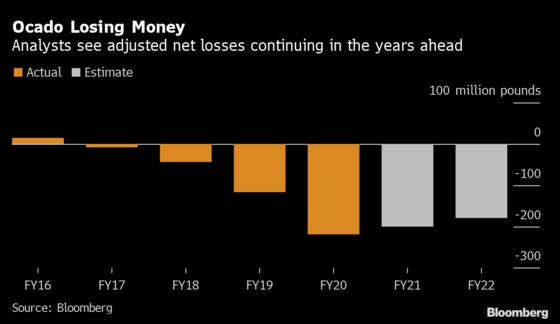 The company said it's still on the lookout for further deals.
Separately, Ocado said it received a settlement payment to end a legal dispute with one of its co-founders, Jonathan Faiman and business partner Jon Hillary, after they obtained confidential information to help set up a rival business.