Nutrien CEO Schmidt Leaves After Just 8 Months in Top Job
(Bloomberg) -- Nutrien Ltd. is looking for a new chief executive officer after Mayo Schmidt abruptly departed after less than a year in the top job at the world's largest fertilizer maker.
The Saskatoon, Saskatchewan-based company can't comment on details of his departure because of legal constraints, spokeswoman Megan Fielding said in an email Tuesday. The change won't affect Nutrien's strategic direction, she added. Ken Seitz, executive vice president and CEO of the company's potash unit, was named interim CEO.
The surprise departure raises questions about Nutrien just as it enjoys the biggest rally in fertilizer for years, which has fueled higher earnings and a 55% rally in its shares in 2021. Scotia Capital Inc. analysts led by Ben Isaacson called the exit "abrupt" and "bizarre."
"Investors are likely to penalize NTR due to perceived dysfunction at the board and senior leadership levels," he wrote in a note, referring to Nutrien's stock ticker. "Accordingly, we expect the stock to come under pressure near term."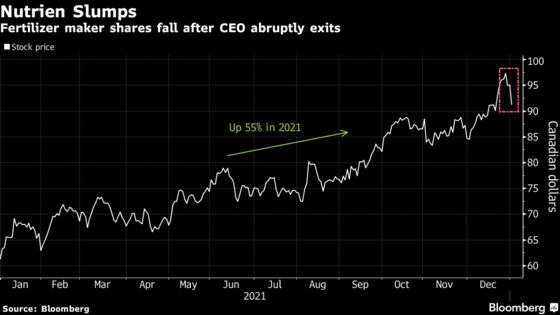 Fertilizer prices have soared to repeated record highs over the last few months on numerous problems, including an energy pinch in Europe, unexpected plant closures and export halts by major countries. This has stoked concerns of further food inflation when consumers are already paying more for staples like grains and coffee.
Despite a banner year for its stock in 2021, the performance lagged North American peers CF Industries Holdings Inc. and Mosaic Co. Shares of Nutrien fell 4% to close at C$91.25 in Toronto trading, the biggest tumble since Nov. 2. The stock lost 5.7% in U.S. trading, its steepest decline in 14 months.
Seitz joined Nutrien in 2019 and has more than 25 years of global management experience, the company said.
Schmidt was named CEO in April, replacing Chuck Magro as he stepped down to pursue other opportunities. The move gave Schmidt his third opportunity to run a public company in Canada. The executive, who briefly played for the Miami Dolphins in the 1980s, rebuilt agricultural company Saskatchewan Wheat Pool in the early 2000s after a restructuring under a new name, Viterra Inc., before it was bought by Glencore in 2012. He later became CEO of Hydro One Ltd., an electrical utility in Ontario.