Nord Stream 2 Pins Hope on Germany for EU Gas Rule Hurdle
Nord Stream 2 Pins Hope on Germany to Clear EU Gas Rule Hurdle
(Bloomberg) -- Nord Stream 2 expects regulators to decide by May whether its contested natural gas pipeline linking Germany to Russia will be able to operate as planned.
Already suffering U.S. sanctions, the project led by Gazprom PJSC is pinning its hopes on German regulator Bundesnetzagentur to help it clear hurdles erected by European Union competition authorities. So-called unbundling rules rolled out by the trade bloc last year require the owners of gas and those who deliver it by pipeline or ship to be separate legal entities, even the fuel comes from outside the EU.
Gazprom and its partners this month turned to Bnetza to clarify the competition rules and will receive an answer by May 24 at the latest, a spokesman for the regulator said.
Nord Stream 2's owners are looking for an appraisal that grandfathers in earlier provisions that helped make the project economic, said a spokesman for the consortium.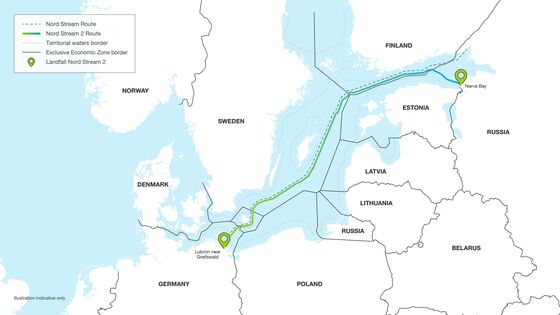 The consortium is being financed by Royal Dutch Shell Plc; Uniper SE and Wintershall AG in Germany; France's Engie SA; and Austria's OMV AG. They're counting on EU exemptions for projects completed before a May 2019 deadline, said Mueller. A decision against Nord Stream 2 could force the company to seek another owner, either by auction or asset transfer, lawmakers in Berlin said last year.
The outcome of the regulator's deliberations will boil down to legal nuance, that will define "completion" of the project. The decision could carry additional costs and cause further delay, adding to of U.S. sanctions that halted work on the link this month.
Nord Stream 2's owners maintain that although the pipeline isn't yet fully complete, they already invested 5.8 billion euros ($6.43 billion) "irrevocably" in the project by May 2019, according to company documents. In the meantime, almost all of the envisaged project costs of 8 billion euros have been invested. Some 2 million tons of pipeline was laid by the deadline, and a section of the pipeline was completed in German territorial waters in 2018.
Pipeline owners aren't seeking to buck competition stipulations but seek to employ fair interpretation of the grandfathering clauses, said consortium spokesman Mueller.
To contact the reporter on this story: Brian Parkin in Berlin at bparkin@bloomberg.net
To contact the editors responsible for this story: Reed Landberg at landberg@bloomberg.net, Lars Paulsson