Nissan, Renault CEOs Meet for First Time as Travel Rules Ease
(Bloomberg) -- Nissan Motor Co. Chief Executive Officer Makoto Uchida is meeting his counterpart at Renault SA for the first time this week in a long-awaited in-person encounter between top leaders of the auto partnership that's faced severe strain.
Uchida is in France following a visit to the U.K., according to representatives of both companies. He met Renault CEO Luca de Meo, who took the helm last year, and will attend a regular meeting of the board governing the Franco-Japanese alliance.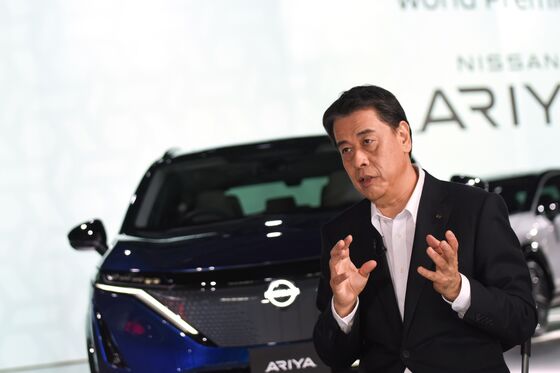 The car partnership was nearly destroyed by the 2018 arrest of its former leader, Carlos Ghosn, in Japan on accusations of financial misconduct and embezzlement. His removal stoked long-simmering tensions that the companies have tried to paper over in a bid to carry out their respective turnaround plans to stem losses and map out transitions to electric vehicles.
The arrest precipitated changes in top management that were followed by Covid 19-related travel restrictions that have prevented Uchida and Chief Operating Officer Ashwani Gupta from meeting in person with Renault Chairman Jean-Dominique Senard and de Meo.
With the creation of Stellantis NV from the merger between Fiat Chrysler and PSA, the three-way alliance -- which also includes Mitsubishi Motors Corp. -- is under more pressure to share platforms and parts in a bid to save on costs. The alliance oversees purchasing for the companies including parts requiring semiconductors that are in short supply worldwide.
Senard is vice-chairman of Nissan, part of the lopsided alliance ownership structure skewed in favor of Renault that has long been a source of tension between the automakers. Renault owns 43% of the Yokohama-based carmaker, while Nissan has just 15% of Renault and no voting rights. Any change would have to be approved by the French state.