NYC Suburbs See Condo-Buying Boom as Houses Get Too Pricey
New York Suburbs See Condo-Buying Boom as Houses Get Too Pricey
(Bloomberg) -- The homebuying boom in New York's suburbs is spreading to condos.
Demand for single-family houses is still surging as the pandemic sends city-dwellers to the leafier outskirts in search of more space. While competition mounts for a dwindling supply of such properties, pushing prices out of reach, more buyers are taking a second look at apartments.
They're joined by empty-nesters who sold their suburban spreads and now have the cash in hand to find a smaller place nearby, according to Jonathan Miller, president of appraiser Miller Samuel Inc.
"Affordability is a challenge, and with record prices being set, condo becomes a competitor again," Miller said in an interview.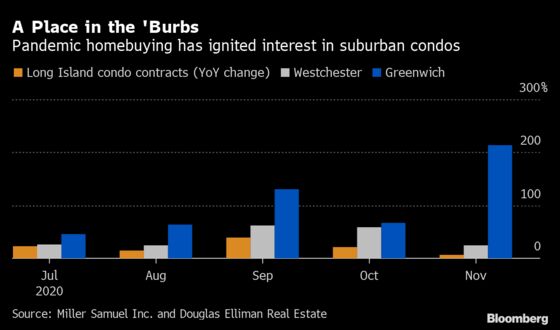 Today's low mortgage rates might have given shoppers an extra push toward condos, a relatively lower-priced choice that's less likely to require a jumbo loan, Miller said.
In Greenwich, the Connecticut town famous for its mansions favored by Wall Street's elite, contracts to buy condos more than tripled in November from a year earlier to 25, according to a report Wednesday by Miller Samuel and brokerage Douglas Elliman Real Estate. A majority of those deals were priced from $500,000 to $999,000.
Condo contracts also jumped in New York's Westchester County, by 24%.
At the St. Regis Residences, a condo community under-development in the Westchester city of Rye, this year's exodus from New York City has kept the sales pace going. Since March, 20 contracts were signed at the five-building, 55-and-older project, said Angela Ferrara, executive vice president at the Marketing Directors, which oversees sales.
About four of those buyers were seeking to relocate from the city, but the rest were locals who were able to sell their single-family homes amid the surge in suburban demand, Ferrara said.
On Long Island, excluding the Hamptons and the North Fork, condo deals rose 6.5%. A majority of the transactions in both locations were priced below $500,000, the firms said.
Even high-end buyers found condos attractive last month. On Long Island, there were 16 deals to buy apartments for $1 million or more, up from just eight in that price range a year earlier.
In Greenwich, there were three contracts for condos priced at $2 million to $3.99 million.
"The pattern," Miller said "is contrary to the assumption that single-family homes are all that matter."