Elon Musk Tweets May Cost Tesla Investors Close to $20 Billion
Elon Musk's Tweeting May Cost Tesla Investors Close to $20 Billion
(Bloomberg) -- The prospect that Elon Musk could lose his job as Tesla Inc. CEO over tweets may cost the carkmaker's shareholders close to $20 billion.
Tesla plunged as much as 14 percent in early trading Friday after the U.S. Securities and Exchange Commission alleged that Musk committed fraud by tweeting last month that he'd secured funding to take the company private. The regulator is seeking to bar Musk from serving as an officer or director of a public company.

At $268.10 -- the stock's lowest price in the first few minutes of regular trading Friday -- Tesla had a market capitalization of about $45.7 billion, down from $64.8 billion at the close of trading on Aug. 7, the day Musk sent his take-private tweets.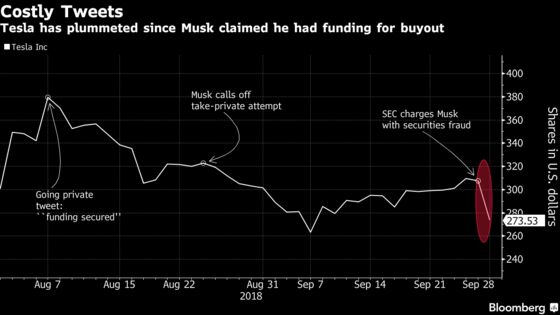 For more on Tesla's recent issues, check out the Decrypted podcast:
To contact the reporter on this story: Craig Trudell in Southfield, Michigan, at ctrudell1@bloomberg.net
To contact the editors responsible for this story: Craig Trudell at ctrudell1@bloomberg.net, Cecile Daurat