Apollo Weighs Offer for Morrison, Heating Up Takeover Battle
Morrison Shares Set to Rise on $8.7 Billion Takeover Offer
(Bloomberg) -- Apollo Global Management Inc. said Monday it's considering an offer for Wm Morrison Supermarkets Plc, heating up a takeover battle for the U.K. grocer.
Morrison had just agreed over the weekend to a 6.3 billion-pound ($8.7 billion) takeover from a consortium led by Fortress Investment Group. That offer trumped private equity firm Clayton Dubilier & Rice LLC's 5.5 billion-pound bid, which the supermarket operator had rejected.
Morrison shares surged as much as 12% to a record in London, trading above the level of the Fortress offer.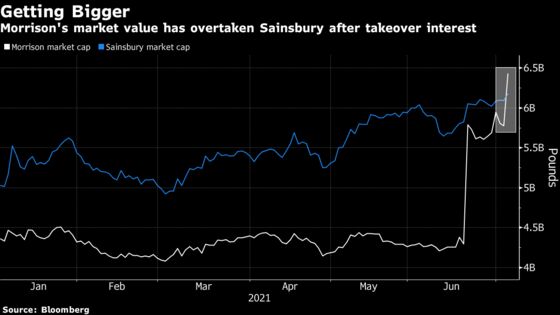 The possible bidding war underscores the interest in U.K. supermarkets after this year's 6.5 billion-pound buyout of Asda, the country's third-largest operator. Private equity firms are trying to capitalize on a business model boosted during the pandemic thanks to increased grocery spending. Some shareholders are concerned the bidders might underpay for the assets, with Legal & General Investment Management asking Morrison to publish more information on the value of the grocer's real estate.
"This signals the biggest shakeup in the U.K. grocery sector for over a decade," wrote Richard Lim, chief executive of Retail Economics, a U.K.-based consultancy.
Morrison owns about 85% of its almost 500 stores as well as manufacturing sites, making it attractive to private equity bidders. The property was last valued at about 6 billion pounds, above the company's market capitalization before news of the CD&R approach was made public.
"It is important that the company isn't taken over for the wrong reasons," wrote Andrew Koch, a fund manager at L&G, one of Morrison's top 10 shareholders. "If an acquirer makes strong returns this should come from making the company a better business. It should not come from buying its property portfolio too cheaply, levering the company up with debt, and potentially reducing the tax paid to the Exchequer."
Apollo made its statement after press reports of a possible bid. The firm said it has made no approach and it's in preliminary stages of considering one.
Fortress and Morrison have agreed to cooperate though the grocer still reserves the right to withdraw its recommendation and opt for a competing offer. There's no break-up fee if that would occur.
Morrison agreed Saturday to Fortress's offer of 252 pence per share plus a 2 pence special dividend. The Fortress bid remains below the 270-per-share range that some top investors asked to entertain any further offer from CD&R, which initially proposed 230 pence per share. Silchester, Morrison's largest shareholder, declined to comment.
Morrison's bonds fell as much as 5 pence on Monday, extending a slump that began last month after suitors first emerged. Analysts at CreditSights Ltd., a credit research firm, cut their recommendation on the grocer's debt to sell from underperform, given the higher leverage after a takeover.
Officials with CD&R declined to comment Saturday on their plans.
Morrison, the U.K.'s fourth-largest supermarket chain, has some 110,000 employees. A takeover would be the largest buyout of a U.K.-listed company in at least a decade, according to data compiled by Bloomberg.
Bids could face opposition from politicians. The Labour Party on Saturday demanded close scrutiny of the potential foreign private equity acquisition of a 122-year-old chain highly concentrated around Northern England and headquartered in Bradford, West Yorkshire.
Morrison's main union, Unite, has demanded guarantees on jobs and working conditions in any takeover of the company.
Apollo came close to buying Asda, Britain's third-largest grocer, but was edged out by a consortium led by the Issa brothers and TDR Capital. Apollo worked on its Asda bid with the retail veteran Rob Templeman, the former boss of Debenhams department stores.

Apollo also previously lost out on the race to buy William Hill Plc, the U.K. gambling company, and RPC Group Ltd., the plastic packaging company.
Morrison's property valuation could be conservative as grocers, including U.K. market leader Tesco Plc, have recently been writing back some previous impairments after recording material improvements in the sales and cash flows per square foot in stores during the pandemic.
Following a turnaround led by Chief Executive Officer Dave Potts, Morrison also has a net pension surplus of 718 million pounds and low underlying debt. It remains a highly cash-generative business with a growing e-commerce partnership with Amazon.com Inc. Unlike rivals, Morrison also has a large wholesale division, which has been growing rapidly in the past few years.