Climate Change Will Bring More Fire Tornadoes to Australia
That's according to new research from the University of New South Wales's Climate Change Research Centre in Sydney.
(Bloomberg) -- Fire tornadoes are set to become a more common feature of the Australian landscape as climate change takes hold later this century.
That's according to new research from the University of New South Wales's Climate Change Research Centre in Sydney, which found the hot, dry and windy conditions that fuel "catastrophic pyrocumulonimbus wildfires" are not only likely to occur more frequently in southeast Australia, but also earlier in the spring and summer.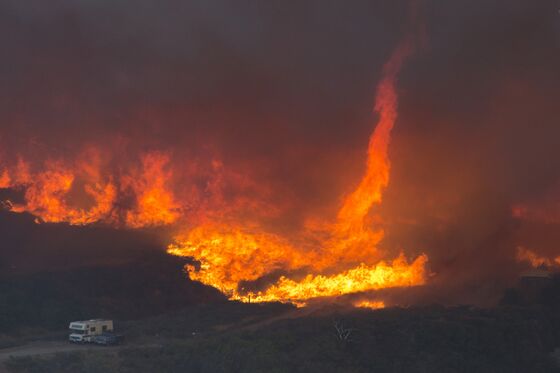 These devastating fires are so large and ferocious that they generate their own weather systems, making them almost impossible to control. Created when a large blaze sucks in dry, unstable air from a kilometer or two above the earth's surface, these tornadoes can throw embers dozens of kilometers out to spark new fires, the researchers said. The first footage of a fire tornado was filmed during Australia's devastating Black Saturday bushfires in 2009, which killed 173 people.
The increased risk from fire tornadoes will affect Australia's capital city, Canberra, as well as "the bush-urban interface near Melbourne," according to Jason Evans, one of the UNSW report's authors.
The report outlines a scenario that's still quite some time in the future: The authors are predicting increased fire tornadoes in 2060-79, in comparison to 1990-2009. But as Australia grapples with an early and extraordinarily fierce wildfire season, the research is timely.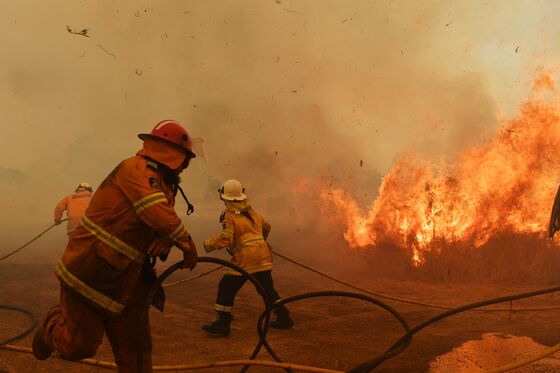 Bushfires ravaging Australia's parched east and west coasts this week look set to worsen as lightning strikes from dry storms combine with rising temperatures and winds to aggravate conditions. Four people have been killed in New South Wales and more than 300 homes destroyed; last week, thick smoke meant air quality in the Queensland capital of Brisbane was worse than in Beijing.
As catastrophic as bushfires can be, other weather phenomena are bigger drivers of insured losses in Australia (although the overall economic cost of such natural disasters generally includes uninsured goods such as infrastructure). Nearly three-quarters of insurance payouts since 2000 are the result of thunderstorms, hail and flooding, although other catastrophes dominate some years (such as the 2009 bushfires or a tropical cyclone in 2011).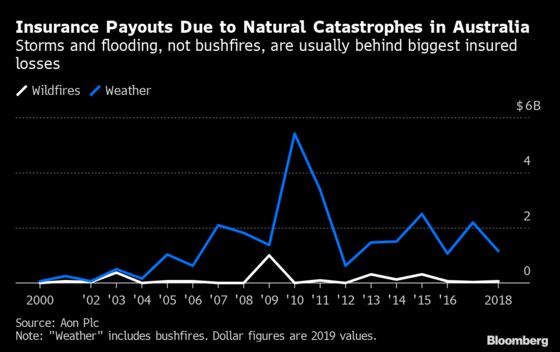 Of the $27.3 billion worth of insured losses in Australia from weather disasters since 2000, only $2.6 billion is the result of bushfires. California's wildfires in 2017 and 2018 alone resulted in more than $30 billion in insured losses, according to Aon Plc's head of catastrophe insight, Steven Bowen. "Those two back-to-back years are by far the costliest fire years on record for the peril globally," he said in an email.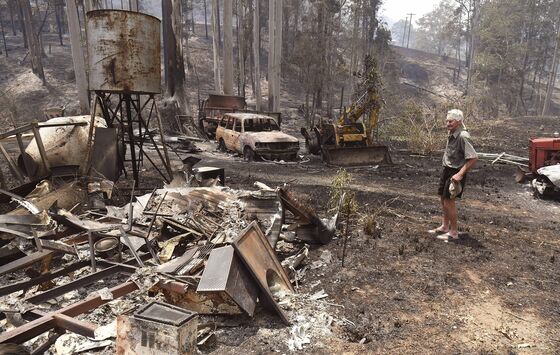 One explanation for the relatively low payouts may be that Australia is one of the world's most urbanized countries: Two-thirds of people live in the country's state capitals, according to the 2016 Census. Historically, floods have tended to reach major urban centers more frequently than bushfires. But as fire season gets worse and cities sprawl further, that distinction may lessen.
The Australian government has been grappling with increased pressure from civilians and experts over its relatively lackluster response to climate concerns. Earlier this month, Prime Minister Scott Morrison said his government was working to "outlaw" the practices of some environmental protesters, after activists in Melbourne heckled executives attending a mining conference.
To contact the reporter on this story: Sybilla Gross in Sydney at sgross61@bloomberg.net
To contact the editors responsible for this story: Alyssa McDonald at amcdonald61@bloomberg.net, Bret Okeson