Moonves Has $300 Million on the Line as CBS Ponders His Fate
CBS's board on Monday said it plans to hire a law firm to investigate the sexual harassment claims against Moonves by six women. 
(Bloomberg) -- CBS Corp. offered Leslie Moonves a contract extension last year that could pay him several hundred million dollars if he remains chief executive officer until 2021. Now that might be in flux.
Shares of the broadcaster continued to slide Monday after the New Yorker reported that six women said they'd been sexually harassed by Moonves over the years. Similar accusations have derailed the careers of numerous executives and high-profile employees at U.S. companies recently.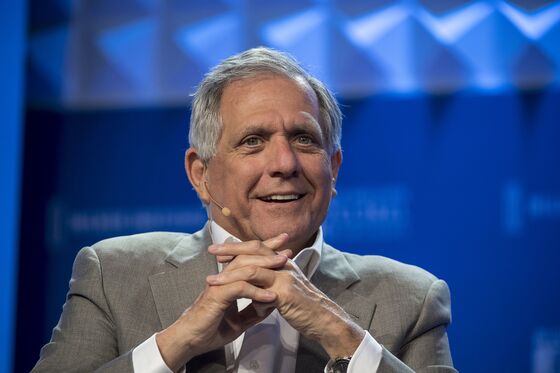 A premature termination of Moonves's contract, set to expire June 30, 2021, could cost him as much as $300 million in forfeited wages, bonuses and other awards, according to a Bloomberg analysis of regulatory filings. Whether that happens partly depends on the outcome of an investigation by CBS's board.
If Moonves, 68, is terminated for cause -- a typical outcome for an employee found to have violated company policy -- or steps aside voluntarily without a valid reason for doing so, he could forgo equity awards and a long-term cash bonus valued at $135 million as of Friday.
Dana McClintock, a spokesman for New York-based CBS, declined to comment on the figures.
Moonves would also forgo about $126.5 million in salary, bonuses and stock awards that CBS is obligated to pay him through the end of his contract. That figure is partly based on his meeting certain performance criteria. After his contract expires, Moonves also has the right to become a producer and senior adviser to CBS, which would pay him $40 million over five years.
CBS's board on Monday said it plans to hire a law firm to investigate the claims. Moonves told the New Yorker his actions may have made some women uncomfortable, but said he never used his position to harm anyone's career.
If the board determines Moonves didn't violate company rules but terminates him anyway, he'll reap a windfall. He'll be entitled to about $125.5 million in severance. Some of his outstanding awards will vest immediately, while others will pay out depending on the firm's future performance.
He's accumulated pension benefits and compensation deferred from prior years worth about $40 million that will be his whenever he leaves, regardless of the circumstances.
Moonves, who's run CBS since its split from Viacom Inc. in 2006, consistently has been one of the top-paid public company executives in the U.S., according to the Bloomberg Pay Index. Over the course of his career running CBS, he's taken home more than $1 billion in salary, bonuses, taxable perks, exercised options and vested restricted shares, before taxes.
Shares of CBS began to fall Friday as news outlets reported that the New Yorker article was forthcoming. The stock has tumbled 11 percent since -- the biggest two-day drop in seven years. The company's shares returned 125 percent since 2006, compared with 126 percent for the S&P 500 Index.
--With assistance from Lucas Shaw.
To contact the reporters on this story: Anders Melin in New York at amelin3@bloomberg.net;Alicia Ritcey in New York at aritcey@bloomberg.net;Jenn Zhao in New York at zzhao66@bloomberg.net
To contact the editors responsible for this story: Pierre Paulden at ppaulden@bloomberg.net, Steven Crabill, Peter Eichenbaum