Blackstone Introduces Dancing Mascot 'Mr. Stone' in Holiday Video
(Bloomberg) -- Blackstone Group Inc. has had an eventful year, from Chief Executive Officer Steve Schwarzman's best-selling memoir to presidential candidate Elizabeth Warren's attack on the firm and the rest of the private equity industry.
So what does it need to get its staff in the right mood for the firm's holiday gatherings Thursday night?
The New York-based investment giant is satirically adopting the tried-and-true populist strategy that pro sports teams rely on -- all chronicled in a video sent to employees Thursday morning and seen by Bloomberg.
The mascot was President and Chief Operating Officer Jon Gray's idea, according to the video shot in the style of the TV hit "The Office," complete with a Dwight-style desktop bobble-head. Gray, who played against type in last year's video as a Grinch who canceled the holiday bash, this time portrays an amped-up version of himself pondering what the company has been missing.
Meet Mr. Stone. He looks a bit like Gray himself -- the hair cut, the eyeglasses, the big smile -- just with stony gray skin, an imposing physique and a huge head. Think "Frankenstein." Gray, an English major, knows his Mary Shelley.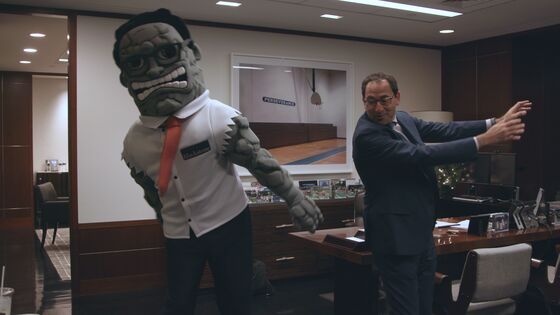 It's an original creation, perhaps because the mascots around the firm's headquarters just wouldn't have done. A New Jersey Devil -- from the hockey team Blackstone executive David Blitzer co-owns -- might have invited reputational risk. Gray's favorite Chicago Bull could have worked, except some strategists see markets cooling in 2020.
The way Gray sees it, the most important decision to be made is who at the firm will play the mascot. Several executives audition reluctantly. Then someone in the costume bursts into the room and dunks a basketball in the corner net.
"Whoever's in there is perfect," says Christine Anderson, head of global public affairs and marketing.
The mascot runs through the Monday-morning meeting, leading waves and a conga line. The lawyers weigh in, worried about likeness misappropriation. Nicholas Galakatos, head of life sciences, says he's "afraid we haven't developed the medication that Jon clearly needs." And there's cultural resistance. "You crazy Americans," says London-based Lionel Assant, who runs the European private equity business.
Gray, though, is all in on his creation. He gives Mr. Stone dancing lessons -- or is it the other way around?
"I don't know who's inside that costume, but I love what Mr. Stone is bringing to this firm," Gray says.
Spoiler alert: In the penultimate scene, the mascot removes his costume head. It's Schwarzman.
"Surprised I can dunk?" Schwarzman says, excusing himself only to reemerge wearing a sandwich board plugging his book. "I've got some holiday cheer to spread, and some books to sell."
--With assistance from Steven Crabill.
To contact the reporter on this story: Amanda Gordon in New York at agordon01@bloomberg.net
To contact the editors responsible for this story: Pierre Paulden at ppaulden@bloomberg.net, Josh Friedman, David Scheer