Maersk Raises Guidance Citing Exceptionally Strong Demand
Maersk Raises Its Guidance Citing Exceptionally Strong Demand
A.P. Moller-Maersk A/S, the world's largest shipping line, almost doubled its profit forecast for this year, citing an "exceptional" environment characterized by "surging" demand for its services.
The raised guidance follows a week-long blockage of the Suez Canal earlier this year, which created bottlenecks throughout much of the global supply chain and sent freight rates soaring. The shares rose as much as 5.2%.
Copenhagen-based Maersk said it now sees underlying Ebit for 2021 in a range of $9 billion to $11 billion, compared with the $4.3 billion to $6.3 billion previously expected. Underlying Ebitda is forecast to reach $13 billion to $15 billion, versus previous guidance of $8.5 billion to $10.5 billion.
"The continued strong performance is mainly driven by the continuation of the exceptional market situation with surging demand leading to bottlenecks in the supply chain and equipment (containers) shortage," Maersk said late on Monday. The favorable conditions are expected to continue "well into" the fourth quarter, it said.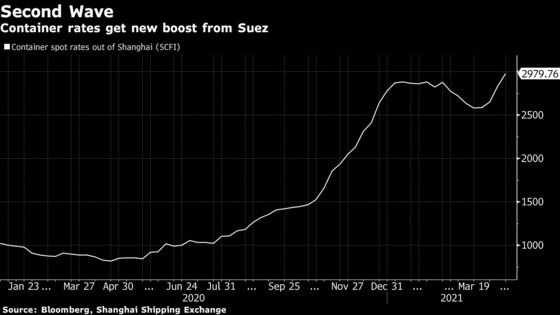 The company, which transports almost a fifth of the world's containers, said it now sees global market demand growing 5-7% this year, compared with 3-5% previously. The improved forecast is "primarily driven by the export volumes out of China to the U.S.," Maersk said.
At Jefferies, analyst David Kerstens repeated a buy recommendation on the shares, saying that while the market had expected Maersk would raise its full-year profit forecast, the new guidance looks better than expected.
What's more, Kerstens said "there remains upside risk to guidance, as container freight rates continue to track ahead of expectations, reaching new record highs."
BI reaction: Robust Liner Fundamentals to Drive Maersk Earnings Higher
Maersk also published preliminary first-quarter results, unveiling revenue of $12.4 billion that was just shy of the $12.61 billion seen in a Bloomberg survey of analysts.
The blockage in the Suez Canal earlier this year delayed an expected normalization of container rates, which had more than doubled in 2020 due to rising demand for consumer goods during the pandemic.
The shares added 3.7% as of 9:14 a.m. in Copenhagen, bringing this year's gains to 18%. The stock soared 42% in 2020.
Maersk is due to publish full first-quarter results on May 5.