Emmanuel Macron Has an Algorithm for Taking Control of Europe
Emmanuel Macron's Plan to Take Control of Europe Moves On to Phase Two
(Bloomberg) -- In a minimalist office in downtown Paris, Emmanuel Macron's aides have spent months calculating which of their boss's ideas are going to upset his allies the most.
Beneath retro election posters on bare white walls, the advisers run the numbers on what will enrage the Germans most, what can be done most cheaply, and what will grab him most attention, according to a person familiar with the work. 
The model includes analysis of the impact of stopping new countries joining the EU, restricting rights to passport-free travel and cooperation on defense. Add in a provocative warning about the failings of NATO and out comes phase two of Macron's plan to remake the European Union.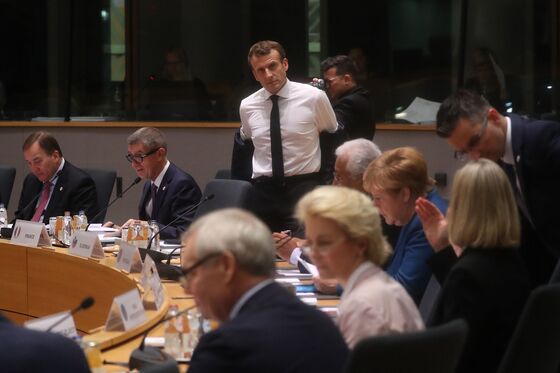 Two and a half years after demolishing the French establishment to sweep into the Elysee Palace, the 41-year-old president is seeking to cement his position as the EU's pre-eminent leader. Frustrated in his efforts to coax German Chancellor Angela Merkel into action, he's striking out alone and part of the grand plan is to break things along the way.
"He thinks we need urgency," said Martin Quencez, deputy director of the Paris office of policy group the German Marshall Fund. "Macron thinks we're witnessing the beginnings of a bipolar world and he wants Europe to be a player, not an object in that game." 
The slaughter of Europe's sacred cows is angering France's old partners. But it's also stirring up long-suppressed debates, creating unexpected new alliances and, say friends and foes alike, it might just work.
Macron's team argues that the EU can no longer afford to work with its traditional habits of consensus building and incremental change. The challenges facing the bloc — from technological change, to migration, climate change and an increasingly hostile world — are too great for its leaders to continue moving at the pace of the slowest member on every issue.
There are risks and disruptions from Macron's attempts to shake things up, but sticking to the status quo could be lethal for the EU, one official said. 
As leaders of the North Atlantic Treaty Organization prepare to meet in London next week, Russia has become a common thread in much of Macron's thinking. 
When the EU's former Soviet states look East, they see a resurgent power that is already destabilizing Ukraine and looking to flex its muscles.
Macron sees a potential ally. 
If Moscow could be drawn into Europe's orbit instead of China's, it could help tip the balance on the Eurasian super-continent. Macron believes Russia will tire of playing junior partner to Beijing and when it does, he wants Europe to be ready, Quencez said. 
So last month, France appointed a special envoy to rebuild the EU's relationship with the Kremlin and to convince the rest of the EU the endeavor is worthwhile. Macron's already hosted President Vladimir Putin twice and next month he'll lead talks in Paris with Putin, Merkel and President Volodymyr Zelenskiy to stop the ongoing hostilities in eastern Ukraine.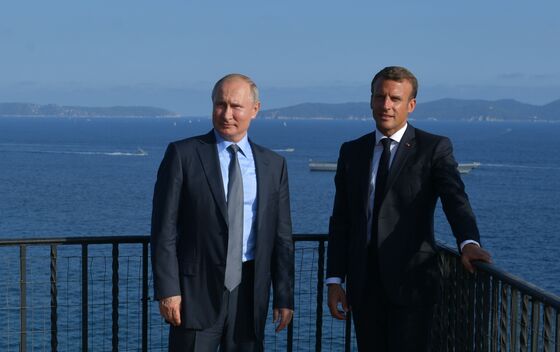 Russia may be the focus of Macron's recent initiatives, but the heart of his project is European power. 
With China growing more assertive and the U.S. more unreliable, Macron is demanding the EU put in place mechanisms to wield its power as a more cohesive geopolitical player. 
That means no more vetoes for tiny new members in the East and a push to streamline decision-making, while Macron is prepared to make the Schengen passport-free travel zone — a fundamental plank of the European ideal — a privilege conditional on helping out with immigration. 
Some officials say it's just the wake-up call Europe needs.
Behind the scenes, diplomats from several EU countries said their governments are more supportive of Macron's vision than they are prepared to let on in public. They are happy for Macron to take the flak and they welcome the way his extreme positions push the entire bloc further even if he eventually has to compromise.
But he's really winding some people up. 
One European diplomat said he'd never seen the Germans so angry after Macron's attack on NATO in the Economist this month. It wasn't just the content of what he'd said, but the provocative language he used and the fact that they got no warning. 
In the Brussels headquarters of the EU and NATO, as well as in other European capitals, many officials criticize Macron for being arrogant, autocratic and acting alone when collaboration would get better results.
Germany and Italy have been at odds for years but they are suddenly finding common ground as Merkel reaches out for help pushing back against Macron, according to an Italian official with knowledge of the relationship. The idea of tightening the Schengen agreement on passport-free travel has both sides alarmed, the official said.  
 "Officials in Europe have been fairly receptive to the substance of Macron's message," said Bruno Tertrais, deputy director of the Paris-based Foundation for Strategic Research. "But they've been put off by the style."
To understand Macron's realpolitik, it's worth looking at where he's building bridges. And where he's burning them. 
Hungarian Prime Minister Viktor Orban's anti-Brussels, illiberal stance puts him directly at odds with the French president's enlightenment vision. But Macron sees Orban as someone who can be useful building support in the East.
That means that Orban too has been entertained at the Elysee and Macron has pressed him to convince Poland to accept a thaw in relations with Russia. With Orban under fire for restricting democracy and eroding judicial independence, that's another relationship that makes some governments uncomfortable.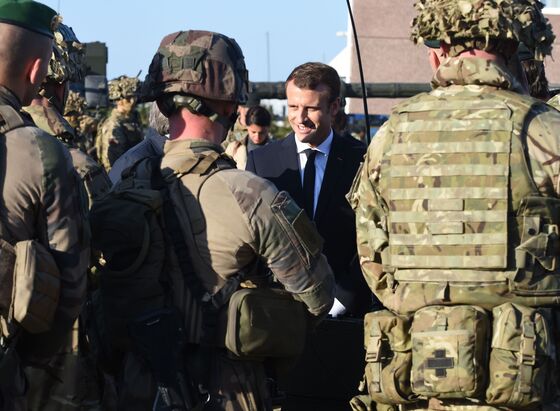 Macron and his aides spent hours on the telephone with incoming European Commission President Ursula von der Leyen after her selection in June to press their case.
Merkel, on the other hand, has been given a series of warning shots by Macron. In February, France threatened to trigger greater EU scrutiny for the controversial Nord Stream 2 gas pipeline between Germany and Russia that Merkel is pushing ahead with in the face of widespread concerns in eastern Europe.
Macron eventually relented, but the episode showed the complexities at play between Paris, Berlin, Brussels and Moscow. 
Back in the fashionable surroundings of the second arrondissement, between Facebook Inc.'s Paris headquarters and the 19th century stock exchange, Macron's team are mapping out the next steps of his plan. 
In constant contact with the Elysee via Whatsapp and Telegram, the team have stress tested all of his policy initiatives using a metrics system that scores each idea according to factors such as how much opposition it will encounter, how much it costs and how big a change it requires.
Beyond the NATO talks and the Ukraine summit in December, the French president plans to start the new year with another bombshell over the Schengen Accord. 
"Macron offers a very coherent geopolitical view of the world," Tertrais said. "He's probably now the only western leader to have one."
--With assistance from Nikos Chrysoloras, Alessandro Speciale, Zoltan Simon, Milda Seputyte and Ott Ummelas.
To contact the editor responsible for this story: Ben Sills at bsills@bloomberg.net, Guy Collins
Get Your
Daily Newsletter
Get market moving news, top news & compelling perspectives
---