Macron Fights on Two Fronts as French, German Risks Collide
(Bloomberg) -- Just 18 months in office, Emmanuel Macron looks hemmed in on all sides.
In France, the 40-year-old president faces violent protests against policies seen to overwhelmingly benefit the wealthy, making further reform risky.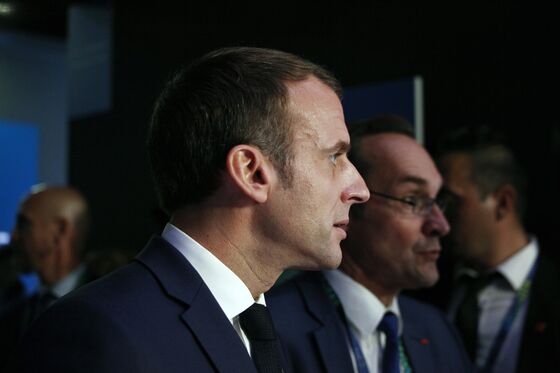 His plans for euro-area integration have been slimmed down so far that there's barely anything left. And with Germany's political class threatening to turn inward, he could be left in the lurch as he waits for broader support to overhaul the European Union.
Macron made an incontrovertible point by selecting the EU anthem, Beethoven's Ode to Joy, for his victory rally in Paris in May last year. His bet was always that by pushing through unpopular changes to France's tax, labor and pension systems he'd create a virtuous cycle of improving the French economy, win over German Chancellor Angela Merkel's government and convince Berlin to agree to a more integrated euro area.
Instead, he ends the year with the French economy stagnating, unemployment stubbornly high and his approval ratings through the floor. Several European counterparts are balking at what they regard as his idea of a euro region they would be expected to underwrite, while Italy's euro-skeptic government opposes him on multiple fronts.
"Macron is facing a situation in the euro zone where there's less and less agreement on what the future should look like," said Florence Pisani, an economist at fund managers Candriam France in Paris. "There's no real common project anymore."
Potentially most damaging of all is Merkel's replacement as leader of the ruling Christian Democratic Union. Macron needs to haul on board Germany, Europe's biggest economy and dominant force, to have any chance of carrying out proposed changes ranging from a more integrated security and defense policy to a bigger global role for the euro.
But that looks like an increasingly tough ask when the debate over Germany's future post-Merkel is dominated by discussion of how to better protect the concerns of domestic voters than any European considerations. While she intends to remain chancellor, the choice of party leader could crimp what room she has to move in Macron's direction. Friday's vote for CDU leader "could -- via a shift in the German leadership -- cause chaos for the prospect of European reforms," said Erik Nielson, chief economist at UniCredit Group.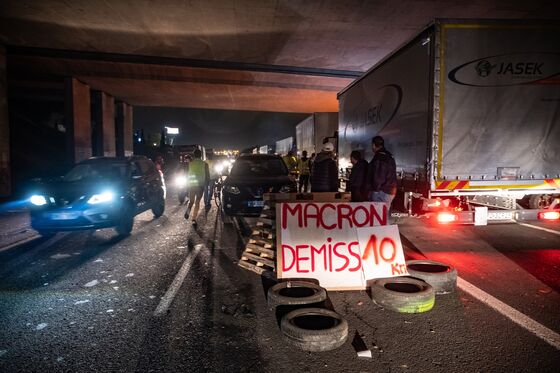 Macron doesn't face national elections until 2022, and he's always said he doesn't care about popularity polls. But even members of his own party are telling him he should maybe slow the pace of change. Above all, he's being urged to reconsider January's planned increase in gasoline taxes, the spark for two weeks of so-called Yellow Vest protests that have roiled France and generated images of violence on the streets of central Paris.
Ministers met Monday night at Macron's Elysee palace in the French capital to discuss their response, Agence France-Presse reported.
Macron began his five-year term by loosening France's labor laws and cutting taxes on business and capital, part of his project aimed at making the economy more nimble. Next up is simplifying France's disparate pension systems, a move that will involve some people giving up privileges, and reforming unemployment insurance to increase the link between job training and welfare payments.
"Macron is in a bind," said Jim Shields, a professor of French politics at Warwick University, describing the president as "in a hurry from the start" to reform France. "To row back on his next phase of reforms is to admit defeat; to press ahead is to invite intensified opposition and widen the perceived gulf between the Elysee and the people."
The protests were sparked by opposition to Macron's environmental policies, which involve hiking taxes on diesel and gasoline to fund incentives to buy cleaner cars and home housing systems, but have evolved into a widespread anger about the rising cost of living and declining services in rural and small-town France.
The movement's demands have expanded accordingly, to include restoring the wealth tax, increasing pensions, raising the minimum wage, and cutting the salaries of politicians. But conversations with protesters have also show that many people simply don't like their president. At the protests in Paris this weekend, many demonstrators broke into chants of "Macron resign!" and daubed insults directed at him on their fluorescent safety vests.
Patrick Daubersies, a 64-year-old retired civil servant from near the Belgian border, said he was particularly angered by Macron's abolition of the wealth tax, the acquisition of new silverware at the Elysee palace and construction of a swimming pool at a presidential property in the south of France.
"They think we are idiots that they can just keep milking," he said.
Macron and Prime Minister Edouard Philippe have said they are open to dialogue with protestors, while insisting the government won't be deterred from its program.
Holger Schmieding at Berenberg Bank sees Macron holding firm, adding that France "could still be heading for a golden decade" as a result of the president's reforms. Nielsen of UniCredit adds the threat of European "chaos" as a result of the CDU vote is not his expected outcome.
According to Dennis Shen, associate director at Frankfurt-based Scope Ratings, the measures already passed will add 0.2 to 0.3 percentage points to potential French growth, but possibly not until 2020 or 2021 -- in time for Macron to run for a second term in 2022.
"Macron laid out a plan and he knew it would happen," said Shen. "He'll continue on his reform path."
To contact the reporter on this story: Gregory Viscusi in Paris at gviscusi@bloomberg.net
To contact the editors responsible for this story: Ben Sills at bsills@bloomberg.net, Alan Crawford