Macquarie Buys Waddell & Reed for $1.7 Billion in U.S. Push
Macquarie Buys Waddell & Reed to Expand U.S. Asset Management
(Bloomberg) -- Macquarie Group Ltd. has struck a $1.7 billion deal to buy Waddell & Reed Financial Inc. and expand its U.S. asset management business.
The acquisition will add Waddell & Reed's $68 billion asset management unit to Macquarie's U.S. equivalent and give it the size and scale to compete with larger rivals, the Sydney-based lender said in a statement Thursday. The deal is Chief Executive Officer Shemara Wikramanayake's biggest move since taking charge two years ago.
Asset management has seen a wave of consolidation in recent years amid a squeeze on fees from cutthroat competition and a shift to passive fund management that's dominated by giants BlackRock Inc. and Vanguard Group Inc. At the same time, the lure of a steady revenue stream and low capital charges have attracted firms like Morgan Stanley, which agreed to shell out $7 billion for Eaton Vance Corp. earlier this year to bulk up in the space.
The exodus of investors to cheaper funds that merely mimic indexes has been brutal on active managers around the world. Clients have pulled almost $16 billion from Waddell & Reed's funds since the beginning of last year, according to public filings.
The firm's recent organic growth rate has been "far worse than its publicly traded peers, and active managers overall," Morningstar Inc. analyst Greggory Warren said in a note. "This takes the price Macquarie is paying for the asset management business closer to 13 times EBITDA, a richer premium than it probably deserves."
The offer values Waddell & Reed shares at $25 apiece in cash, or about a 47% premium to their closing price in New York on Wednesday.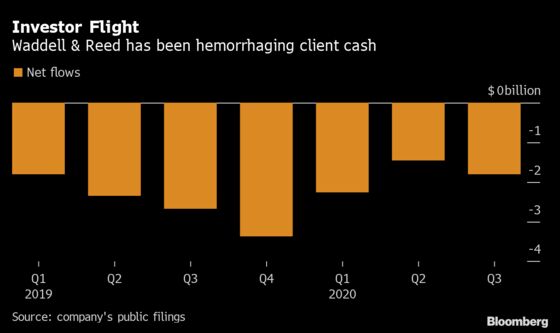 For Macquarie, the acquisition continues the lender's shift to more stable earnings drivers. It's moving toward "annuity-style" businesses -- such as asset management and financial services -- and away from the more traditional investment-banking businesses, such as trading and M&A advisory. The former contributed about 70% of first-half profit, when earnings from the markets-facing units slumped 42%.
Wikramanayake led Macquarie's asset management unit before being appointed CEO, turning it into the group's most-profitable and fastest-growing division. The deal will also further expand Macquarie's global business, which generated almost 70% of total income last half, up from about 50% 12 years ago.
After the deal is completed, Macquarie will sell Waddell & Reed's wealth management business, which has about $63 billion in assets under administration, to LPL Financial Holdings Inc. for around $300 million.
Macquarie shares rose 0.2% in Sydney trading Thursday and have surged about 90% from the March lows. For more detail on the announcement, click here.
The U.S. represents the largest client segment in asset management globally, Macquarie said in the statement. The combined business will have increased scale and diversification of investment capabilities, making it more attractive to distribution partners, the bank said. Macquarie already has a presence in U.S. asset management through Delaware Funds by Macquarie, which it bought from Lincoln Financial Group in 2010 for $428 million.
Macquarie employs about 2,700 people in the Americas, and managed around A$277 billion ($205 billion) in assets there as of Sept. 30.
Founded in 1937 in Kansas City, Waddell & Reed employs about 100 investment professionals in its asset management division. Its biggest strategies include science and tech, mid-cap growth and high-yield fixed income.
"Given Waddell & Reed's current fund performance levels and its higher-than-average fees, the company will be in the crosshairs, in an environment where investors and the advisors that serve them are focused on solid long-term investment performance and reasonable fees," said Morningstar's Warren.