Lufthansa's Tourism Push Puts Government on Spot After Bailout
(Bloomberg) -- Deutsche Lufthansa AG's bid to tap a revival in tourism once coronavirus lockdowns ease has put the German giant on a collision course with its former leisure arm, Condor.
Lufthansa is using surplus long-haul jets to target sunspots such as Mauritius, the Dominican Republic and Namibia that are expected to recover before the airline's bedrock corporate markets. As a result, it has ended a half century-old deal to feed passengers toward Condor, starving the smaller carrier of business on flights to many of the same destinations.
The switch presents an existential threat for Condor, which has no answer but to demand German regulators intervene. A plan to merge with LOT Polish Airlines SA was undone by the coronavirus crisis and Condor was already on life support when Lufthansa put a target on its back. The bigger airline is desperate to scrape up passengers where it can, and makes no apologies -- daring the government to go back on its pledge not to interfere.
"Life is going to be tough for Condor," said Daniel Roeska, an analyst at Sanford C. Bernstein in London. "Lufthansa needs to generate cash, which right now is more likely to come from tourism than from business travel. Why should Lufthansa subsidize Condor with cheap feeder tickets?"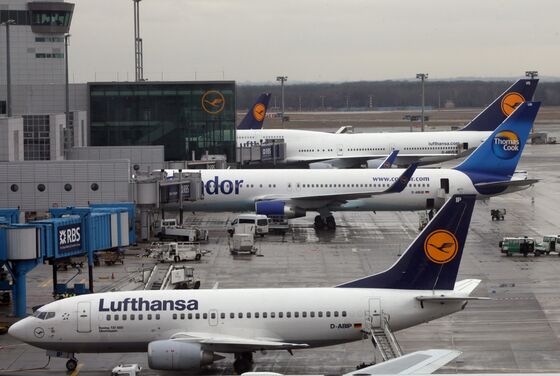 The spat leaves the German government with a type of dilemma that's popping up more frequently in Europe. As money from earlier airline bailouts dwindles, politicians are being forced to decide which carriers to support with more aid or through regulatory moves.
Wizz Air Holdings Plc asserts that protectionist rules are keeping it from expanding at London Gatwick and at other hubs in Europe. The French government is separately under pressure from the European Union to strip Air France-KLM of some slots at Paris-Orly airport, as it discusses topping up the airline's 10 billion-euro ($12 billion) bailout.
In Germany, the government pledged not to intervene in Lufthansa's business even as it became the biggest shareholder through a 9 billion-euro bailout. Now there's frustration that the larger carrier is using its strength to squeeze Condor out of crucial markets, according to a person familiar with the matter.
The government is also concerned that it won't be able to recover the 550 million euros advanced to Condor if it fails, said the person, who asked not to be named discussing sensitive matters.
Lufthansa dwarfs its smaller rival. It had revenue of 36.4 billion euros in 2019, before the virus crisis hit, compared with 1.7 billion euros for Condor. Lufthansa is taking orders for 1.6 billion euros of new bonds and will use proceeds to partly repay the state-aid package, it emerged Thursday.
In past years, Lufthansa has introduced just a handful of new leisure destinations that overlap with Condor's. For the coming summer, the number has multiplied. Condor accuses Lufthansa of abusing its market power by cutting off the feeder traffic and charging low-ball fares on the competing routes.
Condor routes from Frankfurt duplicated by Lufthansa for summer 2021
Short, medium haul: Corfu, Crete, Djerba, Gran Canaria, Jerez, Kavala, Kos, Lefkada, Mykonos, Rijeka, Rhodes, Tenerife
Long haul: Anchorage, Las Vegas, Mauritius, Mombasa, Punta Cana, Windhoek, Zanzibar
"Taxpayer money should be used to ensure companies survive the corona crisis, but not to push other companies out of the market," Condor Chief Executive Officer Ralf Teckentrup said in an email.
The cartel office has begun a formal probe of a market it called "already highly concentrated" -- a reference to Lufthansa, whose bailout terms also specify that the funds not be used to distort competition.
Lufthansa spokesman Helmut Tolksdorf declined to comment on Condor's claims, citing the ongoing investigation. Of its foray into long-haul leisure flights, the carrier said last week that "it would be irresponsible to neglect the utilization of our own aircraft and thereby jeopardize additional jobs."
Europe's biggest airline has seen off national rivals before.
Air Berlin folded in 2017. Leisure carrier Germania collapsed in 2019. Germany's TUIfly is now halving its fleet, while discount specialist Ryanair Holdings Plc has failed to gain traction in Frankfurt and EasyJet Plc is in retreat in the market.
Condor traces its origins to an airline partly owned by Lufthansa that was founded in 1955. The larger carrier fed German sun-seekers onto Condor flights for years as it changed hands.
In 2019, as Condor's then-owner Thomas Cook Group lurched toward collapse, Lufthansa flirted with buying it. Ultimately, LOT agreed to do it but backed out once the virus hit.
While increasing the pace of leisure-route openings, Lufthansa has recently shifted the effort to its main hub in Frankfurt. That's also Condor's center of operations.
Condor is attempting to fight back, offering summer flights from Zurich to nine locations served by Lufthansa's Swiss arm.
The challenge for all its competitors "is that you have Lufthansa now as a state-funded monopoly," Ryanair chief Michael O'Leary said in a Bloomberg TV interview this week. It "completely distorts the market in Germany, but you know, we are where we are."